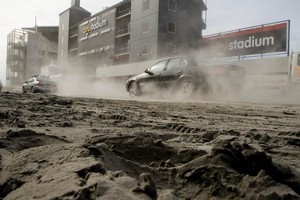 The Government will not immediately release engineering reports on whether AMI Stadium in Christchurch can be used for Rugby World Cup games.
The grounds at the stadium are bulging from liquefaction from the Christchurch earthquake, silt has piled up in some places and there may be structural damage.
Five pool matches and two quarterfinals are scheduled for Christchurch.
Rugby World Cup Minister Murray McCully, expecting an initial engineering report tomorrow, told reporters today further reports might be required.
"Engineers have to be given time to do their work in a thorough and professional manner and we are determined to do that.
"Obviously anything we conclude ourselves needs to be convincing in the eyes of the International Rugby Board and others, and so it's got to be of high quality and it's got to be done according to proper standards."
He said he was unsurprised by images in media today showing damage at the stadium but said experts would decide if damage was cosmetic or structural.
Parties involved in the games would be updated about work but the information would not be released publicly.
"That's a conversation we have to have with Rugby New Zealand 2011, with the Rugby Union, with the IRB," he said.
"We need to have that conversation to make sure we answer all the questions they might have. It's not something we can play out in the public arena, these are our partners we need to work with them, satisfy their concerns, and so I won't be able to say too much about what's in the report until such time as we've started those conversations."
Mr McCully yesterday said the focus was on seeing if the games could go ahead in Christchurch but if they had to be moved it would not be difficult to do so as there were plenty of other venues around the country.
Asked if he was concerned about 50,000 tickets were unsold for Christchurch games he said it was understandable people were waiting to see if games would be held there.
"I am satisfied that prior to Christchurch we were pretty much up to the mark and clearly we need to be realistic about the fact there is going to be a pause in proceedings at this stage while people hear what our conclusions are."
- NZPA