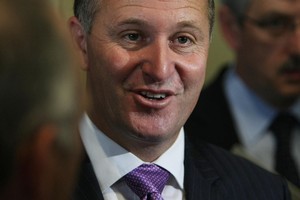 Official figures released today by Civil Defence tag the number of homes condemned to date in Christchurch at 2190 - about 7800 shy of John Key's estimate of 10,000 - causing some to question where the Prime Minister's office is getting its information.
Although hundreds, if not thousands more houses could be red-stickered (signaling their destruction) as inspectors continue the arduous assessment process in Christchurch, Civil Defence staff were scratching their heads yesterday following Key's update on the earthquake situation.
Christchurch Mayor Bob Parker has also questioned Key's figures and the risks of speculating.
Parker told TVNZ there may well be 10,000 houses that will need to be rebuilt but geotechnical information is needed before decisions can be made about land remediation.
"But with regard to land remediation and which pieces of land will or may not be rebuilt - and they may all be able to be built on - the simple fact of the matter is anything else until we get that geotechnic information is really speculation and can be very alarming," he said.
Key told reporters Monday that in addition to the 10,000 homes doomed for destruction a further 100,000 were damaged.
He also suggested that the Government might buy out those homeowners who did not want to return to liquefied neighbourhoods beyond repair.
Civil Defence media relations said those figures were inconsistent with their own records as only 70,000 of the 190,000 or so houses in Christchurch have so far been inspected.
The authority expects to complete its city-wide assessment by the end of the week.
The extent and cost of damage on those homes not condemned remains unclear.
Because of demand placed on emergency services officials and civil defence, authorities have dispensed with the tri-colour coding process that was followed with the September 4, earthquake.
The colouring system would normally give some indication of costs with yellow stickers denoting serious structural damage and green stickers minor.
Civil Defence spokesman David Miller said inspectors were only identifying those houses that were not habitable by placing red stickers on them to ensure the safety of residents by covering as many houses as possible.
Treasury has estimated residential damage from the February 22 earthquake at $6 billion.
The Earthquake Commission said last week that it was anticipating around 100,000 new claims.
It had received 170,000 from the September 4 earthquake and was due to complete all its work there by end of March when the more devastating 6.3 magnitude quake struck.
EQC chief executive David Simpson has already stated that the EQC was sufficiently funded to cover the subsequent costs.