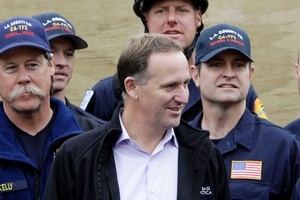 The Treasury's early estimate of the damage of last week's earthquake is $10 billion to $15 billion.
That comes on top of the $5 billion cost of last September's quake, Prime Minister John Key said yesterday.
"I think we have got around $15 billion provisioned. That doesn't mean there won't be an impact on the Crown accounts. There absolutely will and you will see that in the May Budget," he said.
"But I am reluctant to put another levy on [in addition to an expected doubling or tripling of the Earthquake Commission levy] unless I have to because I think it will slow the economy down."
The additional cost, above what is already provisioned, could be paid out over a long period of time, Key said.
What would knock the Government's accounts around in May is that tax revenue would be considerably lower because of reduced economic activity in Christchurch and there would be hundreds of millions of dollars in unanticipated operational spending such as the short-term support measures announced yesterday, estimated to cost about $120 million over the next six weeks.
In addition, the normal system whereby central government puts up half the cost of repairs to local infrastructure, and local government the other half, would go by the board.
"We can't expect local ratepayers to meet that bill in Christchurch."
The Government has previously said the focus of May's Budget would be savings and investment.
"I have no doubt that will still be a core part of the Budget," Key said.
"But you have got to expect the rebuild to be a core part of the Budget as well."
The New Zealand Institute of Economic Research has cut its estimate of economic growth this year from 2.3 per cent (lower than most forecasters) to just 0.3 per cent post-quake.
However, it does not believe the additional costs the Government will face will reduce its creditworthiness.
"Even with additional spending we estimate net debt will peak at around 40 per cent of GDP. This is still low compared to our peers," NZIER's principal economist Shamubeel Eaqub said.
"The Government can also reduce the impact on its fiscal position by reprioritising capital projects, continuing to re-examine inefficient and costly policies and imposing a one-off levy to help fund the rebuilding of Canterbury, as happened in Australia following the Queensland floods."
The last is something the Prime Minister has not ruled out but is not keen on.
Finance Minster Bill English said supporting and rebuilding Christchurch would be the most important thing the Government did this year and into the future.
"We won't be cutting corners. Most of this spending will be on essential infrastructure such as roads, water and sewerage systems. We will pay for this work by prioritising spending on Canterbury above other areas of government spending, and by taking on a bit more debt in the short term."