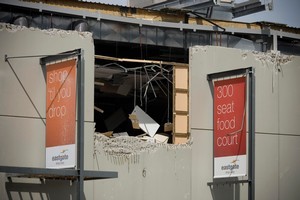 Small Christchurch retailers who traded from the CBD will be forced out to fringe areas like Riccarton, Addington and Sydenham, a property expert says.
Evan Harris of Colliers International worked from level nine of Kiwi Income Property Trust's PricewaterhouseCoopers building in Christchurch and said a large number of Christchurch retailers faced a new future.
"The new CBD won't be all in one place but there are areas on the fringes where development could happen, places close to town. Sydenham's been demolished, whole chunks of it.
"That area of Colombo St could be an alternative CBD. It's got a lot of land," he said.
Harris, who has been president of the New Zealand Council of Shopping Centres, predicted some retailers would want to move out.
"They might say 'that's enough' and move into some of the fringe areas. This is the smaller retailers, the owner-operators, the people with the gift shop or fashion store; boutique-style stores won't have the funds to relocate," he said.
Harris has lost his Mt Pleasant house in the suburb where "every second house is knackered".
"We've moved in with my daughter in the meantime until we figure out what happens."
Retailers will get insurance but Harris said it would take time as damage assessments and income loss audits were completed.
"In the end, everyone is confident they will come through but we've got a lot of retailers who will basically have to set up business as quickly as possible in new premises."
With predictions that Christchurch's CBD will stay shut for two or three months, Harris suggested state suspensory loans or bridging finance to help retailers shift, buy new fixtures, fittings and stock.
That is the only way many smaller shop owners would be able to cope with the disaster, he said.
Colliers manages a number of shopping centres, including Barrington, Hornby and Merivale. All are open again but some of the larger malls, including the National Property Trust's Eastgate, fared badly in the quake.
"That's pretty bad. Part of the exterior wall has collapsed and fallen out on to Pages Rd and Farmers' second floor is all exposed to the world, it's all fallen away. I noticed there's still a lot of cars parked up on the roof," he said.
AMP's The Palms also appeared to be in a bad way, Harris said.
He predicted that high-rise fear would grip commercial Christchurch office tenants for some time.
"It looks like a third of commercial buildings will have to be demolished. One of the big issues is going to be the mental state of people going back into tall buildings. Who's going to want to occupy the 20th floor of a building in the CBD for the next couple of years?"
Colliers manages about 100 commercial buildings comprising about a third of the CBD.
"We manage PricewaterhouseCoopers, Forsyth Barr where the stairs collapsed, the Whitcoulls block which has fallen down, Shades Arcade where a woman was killed.
"After we had the first earthquake, the aftershocks were getting smaller and smaller so I was never worried. We had several [buildings] which had not been reoccupied because we were waiting for assessors and engineers," he said.
Property investors who did not live in Christchurch were seeking Colliers' help but Harris said that simply was not possible.
"I've just had a call from a lady who lives in Auckland whose building is being demolished, instructing me to go into our building and get all the copies of her lease. Well, there's a cordon in the city. We can't get in for a couple of weeks. Any tenants with computers, cellphones - people rushed out in the earthquake.
"We cannot get back into our building, so people who are saying to go back and get files, it's not possible.
"People have to realise you can't get back into the CBD. Access, when we do get it, might be only with an engineer to escort us. Insurance companies will just have to realise what the situation is," he said.
The Retailers Association is telling members they might be able to walk away from business commitments to landlords.
"Once you have established the extent of the damage to your premises you must read your lease and discuss with your solicitor what action you need to take to cancel the lease or discuss with the landlord any possible variation because of restrictions that impact on your ability to trade.
"Most leases will include a clause that terminates the lease if the premises can no longer be used as retail premises; most leases will also include provisions that deal with partial restrictions on the ability to be used for retail trading; however in both of these cases you will need legal advice about your options and rights," the association said.