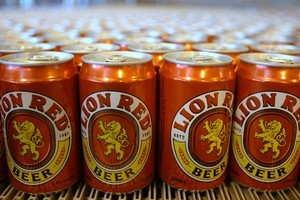 Lion Nathan is working hard to keep its beer supplies flowing to Canterbury while its Christchurch brewery, which is within the cordoned-off central city, remains closed after last week's devastating quake.
Neil Hinton, corporate affairs director at the brewing firm, said it was difficult to know how badly damaged it was, as access was not allowed until engineers deemed the site safe.
It looked as if the damage was worse than that caused by the September 4 earthquake, he said, although office areas seemed to have been more badly affected than the brewery.
"But until we've got power and services there we can't test anything," he said.
Hinton said all the staff who were working at the Christchurch site last Tuesday were accounted for and safe.
But the company was not expecting the brewery to reopen for "at least a couple of weeks", he said.
In the meantime, production had been ramped up at Lion's other plants in Auckland and Dunedin to meet demand.
Hinton said products were sent by ship from Auckland last week and arrived at Timaru's port yesterday.
Products had also been sent by road from Auckland, while tanker fleets had driven north from Dunedin.
He said Lion would have two warehouses operational in Christchurch this week.
Beer had been in short supply in Canterbury since the quake, he said, but some businesses that had been shut down by the disaster were supplying their stock to those that were up and running.
"At the end of very, very hard days communities are wanting to get together and share stories and that's part of the healing process so your suburban pubs have become gathering points for people," Hinton said.
Richard Sinke, the director of Dux de Lux - a restaurant, bar and brewery on the corner of Christchurch's Hereford St and Montreal St - said engineers were moving through the premises last night.
"Fortunately, the Arts Centre [where Dux de Lux is located] seems to have got through okay," said Sinke, who has been involved with the business for 32 years.
But it was too early to tell what the immediate future held for the business.
"It's so devastating to see the city crumbling around you. My staff are feeling very uneasy - they're worried about their jobs," Sinke said.
Paul Cooper, brewer at the Wigram Brewing Company, said the firm's facilities - strengthened after the September quake - had stood up well to last week's disaster.
"We've come through it all right," Cooper said. "But some of the other small breweries down here didn't do so well."
A voicemail message for the Three Boys Brewery said: "We've had a bit a strife down here so we're temporarily out of action."