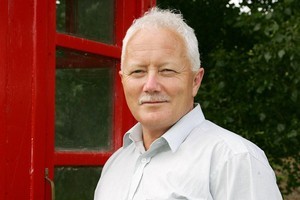 Auckland business leader Michael Barnett was in a restaurant in Latimer Square when the earthquake struck. He staggered out to see the nearby CTV building in the final stage of its deadly collapse.
"When I first came out of the building I thought, 'My God, it's so foggy here,' and then I realised it was dust, dust from the city."
The Auckland Chamber of Commerce chief executive was dining with counterparts from the United States and Canterbury when the quake hit at 12.51pm last Tuesday.
The group initially thought it would be like the thousands of aftershocks that had struck the city since last September.
"One of the little things you do is when you feel the ground shake you raise an eyebrow and you say 'here we go again' and you just move on [but] in a minute it felt as if someone had angrily picked up the building and was shaking the hell out of it.
"Our American friends were absolutely petrified. We were all as one in a moment under the table."
The restaurant, Beaufort House was "an absolutely delightful little place but I can tell you that by 12.52 it was a mess, the outside walls had collapsed outwards, the chimney had crashed, it was a bed of glass," Barnett said.
"We got out of there and were able to witness CTV in its final collapse."
In Latimer Square numbers swelled from 50 to thousands within minutes.
"There was a group of Muslims in formation prostrate on the ground praying. Everyone there was expressing their grief and their fear in different ways."
Barnett had been in Christchurch for a US-New Zealand trade forum at AMI Stadium at the other end of the central city.
His group of about six walked back to the stadium and past collapsed buildings, ruined roads, shocked survivors and bodies in the rubble.
Those in his group, including US Chamber of Commerce deputy chief executive Myron Brilliant, were traumatised.
Barnett said he then spent hours with Brilliant searching for the American's assistant, who was distressed and somewhere near a church in Hagley Park.
She was found and the group made it out to the US Deep Freeze base at Christchurch Airport. They were flown out on a military plane and stayed with Barnett overnight.
Despite the horrific experience, bonds between the business groups were stronger, Barnett said.
"They were here for one purpose that was the purpose of partnership and trade and they experienced something that will bond them to New Zealand and the friendships that we made forever."
Barnett said chambers of commerce around the country were now stepping in to provide services to Canterbury businesses which needed them.
He said Christchurch businesses which could be relocated temporarily should think seriously about doing so to maintain momentum.
"We're not looking to hijack businesses, it's a case of making sure those who have businesses that they've spent decades building up can continue. That's what will feed families and their communities."
The biggest fear for Canterbury would be the flight of its people and businesses.
"To walk away from them would be heartbreaking. We need to provide them with a platform so they can keep going."