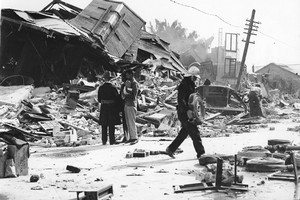 Confronted by the images of Christchurch in ruins it's just about impossible to care about finance.
Yet journalists are compelled to ask about the costs of any disaster - human and financial. We need those official numbers to put a limit on the scale of loss we're being asked to comprehend, which right now looks as though it might go on for infinity.
Like everybody else, I can only hope that the terrible figures being quoted for potential fatalities are wrong.
As for the less important financial implications, the most sensible thing I've read was from Stephen Toplis, BNZ head of research, as quoted by the NZPA.
Toplis told the NZPA that the "biggest disservice you can do anybody at the moment is make a stupid estimate of the dollar value of this".
"We're no better placed than anybody else to try and quantify the magnitude," he said.
All we know is that the recovery and rebuilding of Christchurch will cost a lot. To help with the immediate relief effort a number of channels have opened up to collect donations - here's some below:
* Mayoral relief fund at any BNZ branch: Account number 02-0800-084958-000
* Red Cross - visit this website
* Salvation Army: 0800 53 00 00 (Specify that your donation is for the 'Canterbury Earthquake Appeal')
* Any ANZ Bank branch: Account number 01-1839-0188939-00
* Any National Bank branch: Account number 06-0869-0548507-00
* Any Westpac Bank branch: Account number 03-0207-0617331-00
* Any ASB Bank branch: Account number 12-3205-0146808-00
* Any BNZ Bank branch: Account number 02-0500-0982004-000
* Any Kiwibank branch: Account number: 38-9009-0759479-00
Finance Minister Bill English also reckons the country has the long-term rebuilding costs covered via a mix of government and private pools of insurance money.
In particular, the Earthquake Commission disaster fund, which stood at about $6 billion prior to the September quake, will certainly have to cash in most of its remaining assets - but that's what it's there for.
Replenishing those pools will impose extra expenses on New Zealanders over many years to come, including a possible government 'earthquake levy' and higher private insurance premiums.
I don't think anybody's really worrying about that today.
Very few people had earthquake insurance at the time of the 1931 Hawke's Bay shake - despite that the cities of Hastings and Napier were somehow rebuilt.
I'm in one of those reconstructed buildings as I write; it feels safe. But I've got an 80-year old photo of the very same spot I'm looking at that shows a gaping hole where there is now a solid, earthquake-strengthened wall.