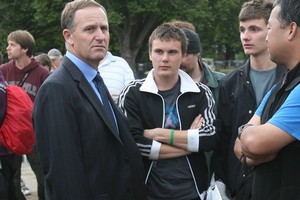 Prime Minister John Key has not ruled out imposing an earthquake levy similar to the flood levy brought in Queensland after the recent floods.
However he said it was not a discussion he has had with the Finance Minister Bill English or Cabinet, with the focus on rescue and recovery after Tuesday's 6.3 magnitude earthquake in Christchurch.
"The difference with Australia and New Zealand is effectively we already have a levy and that is EQC," Mr Key said.
"My preference would be not to do it but I'm not ruling it out."
Package of assistance
Mr Key will speak with the chief executives of 40 of some of New Zealand's largest companies today to start work on a package of assistance for employers and workers affected by the earthquake.
He said the Government was now working on support packages for those left homeless and jobless as well as businesses.
He expected to be able to announce steps by Monday.
Mr Key said he would this afternoon speak by teleconference to 40 CEOs, many of whom had branches in Christchurch, to find out what was required and what help they themselves could offer.
He expected any package to differ from that offered last time, when it was mainly smaller businesses which were affected. The Government provided wage subsidies for workers of those businesses.
"If you think about the CBD and the four avenues blocked off by the cordon there's some very big companies there - a lot of the accounting firms, law firms and others, all those are there. They're going to want to operate. The question is what happens to them. Do they relocate to another part of the city for a while, can they accommodate themselves in another part of New Zealand for a while, but then what happens to those [workers]? There's a lot of questions that need to be answered.
The Cabinet committee set up to deal with the first earthquake was meeting today to consider the issue as well.
Search broadened
Speaking to media in Wellington this morning, Civil Defence Minister John Carter said search and rescue workers had been concentrating in the central city where most of those trapped were believed to be, but that personnel were now entering other areas.
Teams of 70 workers were now going to places where there could be smaller numbers of dead or injured, Mr Carter said.
Outside the CBD, authorities have warned of the risk of landslides and rockfalls near the quake's epicentre in Lyttelton. Falling boulders cut through a home and killed two people in the nearby Port Hills.
Liquefaction affected much of the suburb of Bexley, water bubbling up through cracked streets. Some sinkholes are as big as a truck.
Mr Carter said the bodies of 71 people confirmed dead were in morgues but there were a number of other bodies yet to be identified. Police experts are using DNA, dental records and fingerprints to formally identify victims.
Police have said no more survivors were pulled out of the rubble overnight.
The missing
Police have taken over collating lists of those missing since the Christchurch earthquake, with a figure of 300 just "speculation", Mr Carter said.
Mr Carter said information on the missing was coming from a number of different "information streams".
"Police are now acting to ensure that the lists are accurate and that we will have a definitive list of who's missing."
But Police Superintendent Russell Gibson told TV3 the number was "significantly more" than 300 however some people were reported missing just because they had not answered their mobile phones and that did not mean they were dead.
Infrastructure
Mr Carter said 431 patients had gone through the emergency departments since the earthquake.
He said reports showed water and wastewater are "significant issues for us" and that 80 per cent of the city was without reticulated water.
Power had been restored to 60 per cent of the city with the eastern areas worst affected by ongoing outages, he said.
Mr Carter said forty teams of building inspectors, EQC staff and welfare personnel were now beginning to check the safety of buildings and that number would increase.
Mr Carter said the Lyttelton tunnel remained closed to non-emergency traffic but main roads out of the city and the rail link between Picton and Christchurch were now open.
Medical staff
Medical staff have also been stretched to breaking point.
More than 150 St John staff travelled to Christchurch to back up frontline paramedics dealing with huge numbers of 111 calls. Patients were troubled by heart and breathing problems, chest pains, as well as crush injuries to heads, chests and limbs.
David Meates, head of the Canterbury DHB, urged all staff to report to work in anticipation of more seriously hurt people being found in the rubble.
Hundreds of survivors were also evacuated from the city yesterday, the Air Force ferrying the homeless to shelter in Wellington.
The numbers
72 dead
300 reported missing
164 patients had been admitted as "seriously injured 80 per cent of the city without reticulated water 40 per cent of the city without power
$16 billion JP Morgan damage estimate
1000 number of rescuers by this weekend
40 police cordons in the city
1464 NZDF personnel directly supporting the operation
431 people had gone through the Emergency Department 20 people are thought to remain in the pancaked PGC building