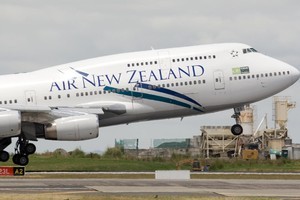 Air New Zealand reported a 75 percent rise in half year net profit to $98 million, as passenger numbers, cargo volumes and yields all increased from a year earlier.
Revenue for the six months to the end of December was 9 percent higher than a year earlier at $2.26 billion.
See a presentation of the results here.
Air New Zealand chief executive Rob Fyfe said initiatives which came to fruition in the half year had strengthened its competitive position.
Bookings on Tasman and Pacific Island services were up 15 percent since the introduction of the airline's Seats to Suit product, far better than expected.
"The trans-Tasman is an extremely competitive and important market for us and together with our alliance with Virgin Blue we are in a very strong market position," said Fyfe.
Domestic passenger numbers were up 8 percent on the same period last year, with capacity being added to meet the increased demand as the company's domestic A320 fleet arrived.
Cargo revenue had recovered, up 13 percent compared to last year, with volumes up 6 percent on a small capacity increase and a strong 10 percent increase in yields.
"Improvements were achieved in all markets with the Pacific and Asian routes being the primary contributors," Fyfe said.
Overall passenger load factors were up 2.6 percentage points over the same period last year, group yield was up 3 percent, the airline had added 2.7 percent capacity and seen a rise of 6 per cent in demand.
The improvement in demand and yield had improved, and together with the benefit of a stronger NZ dollar as the company's hedging profile rolled off later in the year and the implementation of new initiatives, set a strong platform for future performance, Air New Zealand said.
Fuel price volatility remained a significant risk to the year end result.
An unchanged interim dividend of 3c per share was declared.
The company said its normalised earnings before tax of $112m for the half year included an $18m gain on equity swaps relating to its investment in Virgin Blue.
NZPA