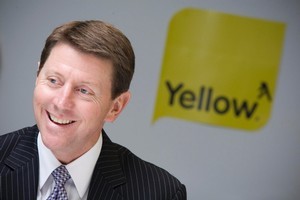 Bruce Cotterill has stepped down as chief executive of Yellow Pages Group having completed a massive restructure and following the directory business's bankers seizing control last month.
Cotterill was brought in two years ago as Yellow's debt spiralled out of control, and it was unable to meet its repayments.
That led to its lenders taking ownership after a sale process stalled last year, and they were forced to write off $1 billion as the value of Yellow's goodwill and brand was slashed by $1.6 billion.
Cotterill will be replaced by Scott Pomeroy, one of the new directors.
"The major focus during the last 12 months has been to get the debt load reduced, whilst at the same time growing our business, our people and our client relationships and ensuring we met our profit expectations during a tough time for the economy," Cotterill said in a statement.
"With the restructure completed and both new owners and a new board of directors in place, the time is right for me to move on."
Telecom sold Yellow Pages in 2007 for $2.24 billion in a leveraged buy-out to Hong Kong-based Unitas Capital and Canada's Ontario Teachers' Pension Plan, whose equity is now completely lost.
Yellow won't go back on the block immediately, with the new governance and leadership team looking to build on its stable income base and maintain a stronger balance sheet than in the past.
The company will look for a number of low-level acquisitions to squeeze more from its existing customers with additional services, such as the online discount voucher website, www.groupy.co.nz.
Cotterill's resignation comes against the backdrop of a pending court-room stoush with state-owned NZ Post, whose Localist directory unit is accusing Yellow of breaching the Fair Trading Act by buying and squatting on a similar domain name.