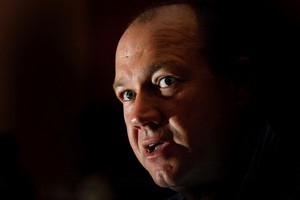 The Shareholders' Association has slammed repeated claims by Mark Hotchin that he and Eric Watson did Hanover a favour by pumping $76 million into the company, as well as taking out millions in dividends.
The association's chairman, John Hawkins, noted yesterday that of that sum, only $10 million was in cash.
The rest was mostly properties, the bulk of which had huge debts that might have come back to haunt the two businessmen had they not managed to pass them on to Allied Farmers, he said.
"The bottom line in our opinion was [those] properties were a millstone he took off his and Eric Watson's neck and hung them up on someone else."
Mr Hotchin has gone on the front foot this week, accusing Allied Farmers of bungling the deal that was intended to be a possible saviour for former Hanover investors.
The company's shares have since fallen to less than 2c, but Mr Hawkins said he believed Allied had done a reasonable job in the circumstances.
"I think Mr Hotchin needs to look darn carefully in the mirror before he talks about supposed things [Allied boss Rob] Alloway and Allied are supposed to have done. Probably no one is lily white in this whole debacle. The whole thing should have been put in receivership in the beginning, but the investors chose not to do that."
Mr Hotchin said the association was being "mischievous".
Meanwhile former Hanover Investments depositor John Hepburn says TVNZ's Close Up programme did investors a disservice by giving Mr Hotchin a platform to "promote his bluff".
Mr Hepburn wants the show to put him up against the former finance company boss next week.
In a letter to producer Mark Valentine and presenter Mark Sainsbury, Mr Hepburn said the pair had done a great disservice to 16,000 former Hanover secured depositors by giving the stage to Mr Hotchin to "promote his bluff and bullshit".
Mr Hepburn said Mr Hotchin's allegations that Allied Farmers had mismanaged Hanover's former assets were another attempt to blame others for the debacle he was responsible for.
"I was sceptical about the deal from day one and sold my Allied Farmers shares on the first available trading day for 10.5c, leaving me with a loss of about $2950 on my original $5000 investment," said Mr Hepburn. "Sadly, some 90 per cent or so of the original Hanover secured depositors still hold their shares now trading at 1.8c."
Mr Hepburn now wants to go on Close Up and "really challenge Mr Hotchin" (or Hanover chairman David Henry) on the comments made on nationwide television on Thursday.