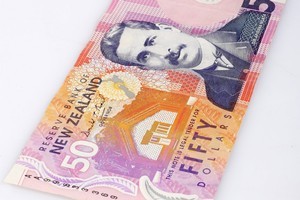 Foreign investors boosted their share of government debt on issue last month to just shy of $28 billion, as the Crown borrows $300 million a week to maintain its spending programme.
Non-residents now hold more than half the government securities on issue, at $25.7 billion worth of government bonds and $2.2 billion of Treasury bills.
That amounts to 57.8 per cent of all government securities, according to Reserve Bank data. That's the highest proportion since August 2009, and a new record for the absolute dollar value being held offshore.
Reserve Bank data shows the government's debt has attracted bidders from Belgium, the Netherlands and Luxembourg, commonly known as the Benelux group, which holds $18 billion, or 70 per cent, of the government bonds, up $900 million from December.
The UK and Ireland are the second-biggest holders of New Zealand public debt at $2 billion, or 7.8 per cent, followed by Japan at $1.8 billion, or 7 per cent, Australia at $1.7 billion, or 6.6 per cent, and the US at $1.3 billion, or 5.1 per cent.
That comes as the government prepares to reduce its own reliance on foreign debt-holders, talking up the dangers of the nation's offshore indebtedness and vowing to cut spending and flagging asset sales in a bid to return to a cash surplus faster than previously forecast.
As at September 30, public debt was 16.6 per cent of gross domestic product - low by developed world standards, but the highest it's been since March 1999.
It is private debt that is the major issue facing New Zealand's external liability dilemma, with corporate debt at almost $221 billion, or 116 per cent of GDP, as at the end of September.
Total debt is $252.5 billion, or 132 per cent of GDP. Earlier this month the government-appointed Savings Working Group, tasked with finding ways to reduce the nation's poor savings record, recommended indexing interest and investment income and expenses claims to inflation, as well as beefing up the soft compulsion of KiwiSaver.
Its advice to raise consumption tax as a means to damp spending was quickly shot down by Finance Minister Bill English, while its jab at the unaffordability of a universal pension scheme was also ignored by the government.