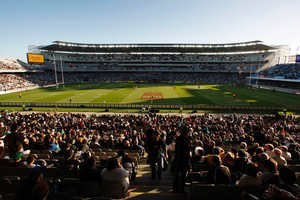 Plans are in place for a new tier of "stand-up" corporate tickets to the Rugby World Cup.
Up to 60,000 rugby fans will find out today if they have secured tickets to the Cup finals and semifinals.
Fans had a one in eight chance of securing seats for packages involving either one or both semifinals and/or the final.
But, for those who miss out today, there will soon be another option - if you have about $5000 to spare.
Warren Barclay, managing director of corporate hospitality event management company Experience Group, which is selling packages for the tournament, said he hoped to finalise a marquee-style hospitality package by the end of the week.
For between $4000 and $5000 fans would be able to go to both semifinals and the final with drinks and finger food included and category D or C seating. The package provides a less formal and cheaper alternative than other corporate hospitality options which include sit-down fine dining and come with hefty price tags.
Off-site packages would be linked to city bars with links to public transport and on-site packages would most likely be in a marquee-style setting on the Eden Park grounds near the pavilion.
"It's really very much trying to get the hospitality programme to meet the market at a slightly more affordable end. I'm hoping that, whilst it won't be cheap, it will certainly be more affordable."
Mr Barclay said the cheaper alternative had not been created because other packages were more expensive but because there was a demand for it, mostly driven by the New Zealand and Australian fans who liked to "go the rugby and whack a few beers back and stand around the leaners rather than have formal dinner".
European and American rugby fans were usually "white collar" people who enjoyed a formal setting, but New Zealand and Australian fans often preferred a more laid back experience, he said.
Although packages would be available for corporates or small to medium sized businesses wanting to entertain clients and staff, they were also for individuals who could afford to spend a bit more money going to games.
Mr Barclay said he expected there would be hundreds of stand-up hospitality tickets available. If there was more demand for the stand-up hospitality packages, some seats allocated for the more formal packages would be reshuffled to suit.
Fans are already paying between $399 (for category D seats) and $1278 (category A) for the finals and between $296 (category D) and $797 (category A) for the semifinals at Eden Park. Those who are lucky enough to be drawn from the ballot have until March 4 to complete their purchase. After that date, the ticket offer expires and Rugby NZ will make further offers prioritised on the initial randomisation process.
A small number of fans would have received notification over the weekend but the majority are expected to hear today if they have tickets. Those who can't handle the wait can check online from 9am today to see whether their applications were successful.
STAND-UP HOSPITALITY
* Can be purchased in corporate groups or individually.
* Off-site options will include pre-match drinks to a city bar with links to public transport.
* On-site options will include stand-up socialising in a marquee style set-up, with finger food and drinks included.
* Both on and off site include category D or C seats.
* Expected cost: $4000-$5000 for both semifinals and the final.
For more information:
Fans can check their account number online at www.rugbyworldcup.com/finals
For more information on corporate packages:
Visit www.rth2011.com