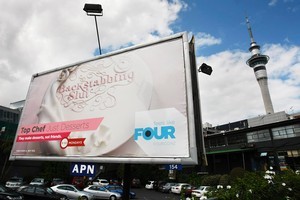 They launched a television channel with a giant rubber duck which drew parents and children to Auckland's Viaduct Harbour.
Now, MediaWorks is under fire for a series of "sexualised" adverts - one of which features the words "backstabbing sl**" to advertise the newly rebranded channel Four.
One billboard, in central Wellington, even has the phone number for the Broadcasting Standards Authority (BSA) covering parts of a naked woman's body - which has seen authority staff fend off about 15 phone calls from people thinking it was its own advert.
The Advertising Standards Authority (ASA) has received five complaints about the "backstabbing sl**" billboard, an advert for Top Chef Just Desserts in Parnell Rise.
The advert, published by APN Outdoor, features the words as writing on a cake, with the show's title and the words "they make desserts, not friends" underneath.
Other adverts for America's Next Top Model which have featured in the Herald and on billboards have featured naked women, carefully covered up.
MediaWorks' director of marketing and communications, Roger Beaumont, said the adverts reflected the purpose of the channel.
"The channel's all about entertainment and I guess entertainment is a fairly broad thing, so it's entertaining on a whole number of levels ... some of that entertainment has a touch of wickedness to it.
"We think it's appropriate and entertaining and with a touch of humour as well, and clearly the media companies ... have the right to not publish if they don't feel it's appropriate."
Asked what Mediaworks had to say to anyone who was offended with the use of the word "sl**," Mr Beaumont said: "We think it's in relatively common usage. If people do feel upset ... there is an appropriate complaints process."
BSA spokesman Dominic Sheehan said complaints had been referred to the ASA because the BSA dealt only with broadcasting.
But the BSA would be talking to MediaWorks about the fact it had not been advised about the billboard, although he said he was not upset with the broadcaster.
"I'm sort of a glass-half-full person. If it gets people talking about us and what we do, we use it as a positive."
APN Outdoor general manager Phil Clemas said the billboard was vetted using ASA guidelines and anyone with complaints should contact the ASA.
He said the billboard was "a bit edgy" but relevant to what was being advertised.