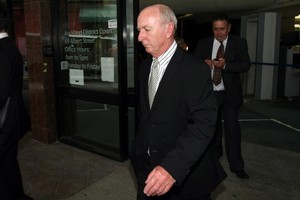 The trial of former Bridgecorp directors Rod Petricevic and Robert Roest was delayed because Petricevic was unable to access legal aid.
Petricevic and Roest, the managing director and chief financial officer respectively of the failed finance company, appeared in the Auckland District Court today charged with the fraudulent acquisition of a $1.8 million luxury boat using Bridgecorp investors' money.
Petricevic also faces a separate charge of making dishonest payments of $1.2m of Bridgecorp funds to a business entity called ABb.
These charges, laid by the Serious Fraud Office (SFO), are in addition to several laid under the Crimes Act, Companies Act and Securities Act for which they have already been committed to trial.
Petricevic's lawyer, Charles Cato, today sought a stay of the prosecution because his client had been unable to access legal aid, SFO chief executive Adam Feeley said.
The trial will now be delayed until at least September, but the men will be back in court on March 1, when the results of a review into a request for legal aid funding would be clearer, the Stuff website reported.
Legal aid is a scheme whereby people who cannot afford legal services have access to them.
Roest is also understood to have applied for it.
Bridgecorp collapsed in 2007, owing thousands of investors almost $460 million.
- NZPA