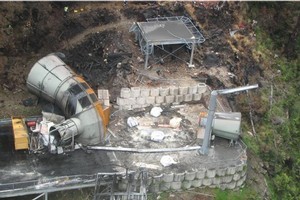 A proposed Pike River mine stabilisation plan doesn't allow for the recovery of the miners and won't guarantee the future of the mine.
The Receivers of Pike River Coal Limited presented their mine stabilisation plan to the Commissioner of Police today.
PricewaterhouseCoopers said the plan was directed "at establishing a stable state within the mine atmosphere".
A statement this evening said "the receivers agree with the Police that, based on the extensive work undertaken to date, it appears that a recovery of the deceased miners is very unlikely."
Key points in the plan include:
* Over the next five to eight weeks work will continue to achieve a sustainable inert atmosphere in the mine, with no evidence of underground heat sources that pose risk of further explosion.
* This work will be funded by PRC and will be undertaken under the Company's control.
The police informed families of the reports contents at around 7.15pm this evening.
The Receivers had been given until 5pm today to come up with a plan for stabilising the mine.
The bodies of 29 workers have been in the Pike River mine since it was wracked by a series of explosions in November.
Earlier, a statement from the Pike River Families Commission says it is understood the receivers, PricewaterhouseCoopers, favoured temporarily sealing the mine.
The families statment followed Labour leader Phil Goff's attack on Prime Minister John Key, in which he accused Mr Key of "passing the buck" on whether to permanently seal the mine.
He instead called on Mr Key to shoulder responsibility for the future of the mine instead of handing it to police and receivers.
"The families who lost loved ones in this disaster are rightly angry at the way they have been treated. At the time of the disaster, John Key rushed down to Greymouth making promises that he now says he can't keep. He was happy to front at the time of the tragedy, but now the hard decisions have to be made, he's desperate not to take responsibility."