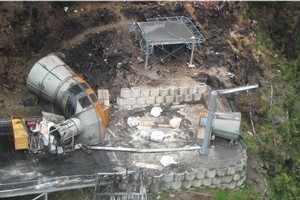 Contractors unlikely to receive wages owed them by Pike River Coal are disappointed by the response to their plight from local economic agency Development West Coast (DWC).
Around 80 West Coast contractors and suppliers are owed more than $8 million dating back to October, but as unsecured creditors the group representing them has been told the only way to recover any money is to apply to the courts to wind up the company.
The companies, with more than 200 employees, were contracted to Pike River Coal at the time of the explosion at the mine that killed 29 men, including 13 contractors.
They want DWC to contribute urgently to an economic package to help them or they face closing down, Pike River Contractors and Suppliers Group chairman Peter Haddock said.
"In the West Coast's hour of greatest need, we are looking to DWC to offer a cash package to the PRCL contractors and suppliers rather than the 'business recovery workshops, business mentoring, managing stress and cash flow management' as stated in the (recent DWC) open letter," Mr Haddock said.
"We have 200 jobs at risk right now."
Pike River Coal was about to pay invoices for October on November 20, the day after the first explosion, but those payments were stopped, he said.
The group wanted a fund to be established to pay the contractors and suppliers to stop workers leaving the region.
"DWC needs to act with speed to help retain our skilled West Coast workforce, partly developed on the back of PRCL (Pike River) and other projects over the past 20 years."
The group had sought a meeting with DWC on Friday, but was told it was not possible for a month.
In an open letter to Grey District residents last week, DWC and Grey District Council said they recognised the need to retain the area's skilled workforce until other projects came on stream.
DWC had contributed $1m to the Pike River Relief Fund Trust for the families of the dead workers, which it wanted used for long-term initiatives.
DWC and the council were working with the Ministry of Economic Development to explore ways to speed up economic activity planned in the Grey District.
A charitable trust, DWC was established in 2001 to administer $92m from the government to help the region adjust after the end of logging of native forest.
Police are ending their recovery operation and handing the mine over to the receivers with the bodies of the men still inside.
However, some family members of the men believe the decision to pull out was made too soon, and the efforts to stabilise dangerous gas levels at the mine were starting to work.
- NZPA