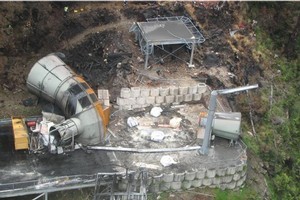 Police Commissioner Howard Broad said the West Coast mine would be handed back to the receivers of the Pike River Coal company, PricewaterhouseCoopers.
His announcement, made yesterday after nearly two months of costly efforts to retrieve the bodies, followed a meeting with miners' families which some said left them confused about whether the remains would ever be recovered.
Bernie Monk, whose son, contractor Michael Monk, died in the mine, said he understood that because the receiver could not pay for continuing recovery work, police and the Government would come up with a new plan.
Asked about the prospects of the mine being sealed, Mr Monk said: "In our hearts we hope that doesn't happen, but let's pray to God we can face all options before that happens.
"All the police are saying is, to the receivers, 'What are you going to do to help us?' because they are just sitting back and letting our Government do all the work for them."
Grey District Mayor Tony Kokshoorn said the families had been left in limbo after yesterday's meeting.
"I think there was total confusion outside afterwards as to whether this recovery is going to happen."
Mr Kokshoorn said police officials seemed to find it hard to tell the families what they had come to say.
"They went around in circles. I think someone should have said to these families, 'Look, it's all over.'
"I don't think it's fair to put them through hell for another week just to get bad news in a week's time. They have been to hell and back for two months. They are totally confused, more confused than when they went in."
The men died in a series of explosions, the first on November 19, in the coal mine about 50km from Greymouth.
Efforts to retrieve their bodies have included pumping nitrogen into the mine with a modified jet engine, then plugging cracks around the mine with expanding foam.
But temperatures have continued to fluctuate by as much as 100C, and gas readings continue to be unstable.
Commissioner Broad indicated it was unlikely the remains would be recovered.
"Frankly, my confidence in terms of a recovery operation to bring the men out is quite low," he said.
"The assessment is that the likelihood of getting into the mine safely is unrealistic."
Mr Broad said he had told the receivers of the decision and it was now up to them to secure the mine safely.
The police and Conservation Department had an interest in seeing it "properly secured".
"In my view, it is time to focus on the living, and to respect and memorialise those men who have died," he said.
"We are disappointed we are not in a different state than we are today."
Mr Broad said police would continue to support the families, who were grateful that they were involved and being updated throughout the process.
Mr Monk said he had spoken to some of those involved in the recovery operation.
"With a tear in their eyes, they said, 'If we run out of money up there, they will have to drag us off the mountain before we leave'. What more commitment could you ask for than that?"
Lawrie Drew, whose son Zen died in the mine, said information provided at the meeting with police was ambiguous and twisted.
Another relative of one of the 29 men said after the meeting, "It's all bad news."
The families will meet on Monday and Mr Monk said he hoped the receivers would have responded to the police by then.
Prime Minister John Key said everything that could be done to recover the men had been done.
"Our thoughts are with the families of the victims," he said.
Labour leader Phil Goff said the decision was a huge setback and heartbreaking for the families. "It prevents the sort of closure they had hoped for."
After the explosion last year, families initially hoped the bodies would be recovered by Christmas, but fluctuating gas levels made that impossible.
On December 22, police said it would be at least three months before it would be safe to enter the mine.
On New Year's Day, the families were told it would be more than a year before a royal commission of inquiry into the disaster would have finished its work.