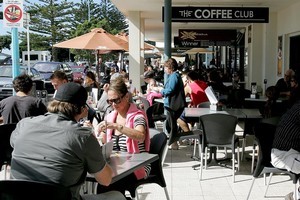 Diners and cafe customers in Auckland want clearer rules over when the holiday surcharge should apply after some were slapped with the extra cost on their bills when eating out yesterday.
Aucklanders potentially face a four-day stretch of surcharge, but several cafes and bars which imposed the additional charge during the weekend told the Herald they would not charge extra today.
Restaurants added the surcharge on statutory holidays after changes to the Holidays Act in 2004 gave workers time-and-a-half pay and a day in lieu for working those days.
However, because Christmas Day and New Year fell on a weekend this year and were both replaced with holidays on Mondays and Tuesdays, there's been confusion over which days should be considered "public holidays" for the surcharge to apply.
"The statutory holidays have been replaced, so the weekend should be just that - a weekend. Why should I be paying more for my Sunday drinks?" said an irate Ron Malcolm, an Australian businessman stung for 15 per cent more on his bill at Mezze Bar in central Auckland.
Maggie Kerr, who had to pay $7 more for her $48 bill at a Chancery restaurant, said she felt "ripped off" because the reason she decided to treat a friend to tea yesterday was that she thought there would be no holiday surcharge.
"There should be some clarity to help people like me, who are on a budget, to plan when we go out," said Mrs Kerr.
The Commerce Commission says businesses are entitled to charge a surcharge if they have to pay their employees more than a normal working day.
"New Zealand businesses are free to determine the retail price for goods and services, and they do not have to justify their prices to customers," a commission spokeswoman said. She said many businesses decide not to apply a public holiday surcharge, choosing to absorb the extra wage bill.
Mezze Bar manager Ali Kuytu said the owners would not impose a surcharge for the rest of the New Year holidays as a gesture of goodwill. The manager of Mecca Chancery, Vanjo Pavlouski, said he was "95 per cent certain" of dropping the holiday surcharge today, depending what neighbouring businesses did.
Meanwhile, New South Wales eateries have found a way to get around rules banning holiday surcharges, adding a fixed charge of up to $3 per person to the bill.
Have you been charged?
Tell us your story. Email newsdesk@nzherald.co.nz