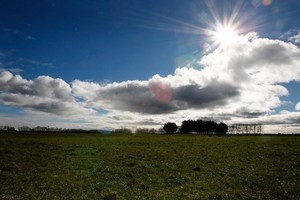 State-owned farmer Landcorp is still interested in buying the 16 Crafar farms.
Receivers KordaMentha turned down its multimillion-dollar bid in July, saying the company "was not among the preferred tenderers" .
Hong Kong-listed company Natural Dairy, which is under a trading suspension, lost its bid on Wednesday when the Overseas Investment Office (OIO) declined its application because its directors and May Wang of the UBNZ group failed to meet a good character test.
Under the criteria for approval, the OIO has to judge whether the people at the helm of the company are of good character. This requirement was not satisfied and the OIO recommended Cabinet ministers Maurice Williamson and Kate Wilkinson turn down the offer, which they did.
Natural Dairy and its New Zealand-based sister company UBNZ Asset Holdings, of which it owns 20 per cent, needed OIO approval for the $200 million bid because as a foreign company it wanted to invest in sensitive New Zealand assets such as farmland.
Yesterday, Landcorp chief executive Chris Kelly said: "Our position hasn't changed, we put in a tender offer, the receiver has that tender offer and he rejected it at the time as he felt there were other offers or offer at the time that were superior to ours. Our position hasn't changed. We are not going to submit another offer. If [KordaMentha's Brendon Gibson or Michael Stiassny] wants to talk to us I'd be happy to discuss it with him."
Kelly said Landcorp's offer was under $200 million but was unconditional and "it didn't have too many ties to it".
The OIO considered the UBNZ group of companies - including UBNZ Trustee and UBNZ Funds Management - to be associates of Natural Dairy, therefore it also needed approval. UBNZ Asset Holdings planned to buy the 16 farms for Natural Dairy, which was then going to buy the remaining 80 per cent of the company. The Serious Fraud Office is investigating the sale and purchase agreements between the companies.
UBNZ already owns four Crafar farms it bought this year. The OIO may apply to the High Court for an order to sell the farms. Gibson said he was waiting for a statement from UBNZ.
"We're waiting to see whether UBNZ is going to do anything at all about it. We are waiting to see what it has to say. We've still got the current contract on track. They have received a decision declining their application and we're waiting to see what their response to that will be. We're waiting to hear from their legal advisers. We have obviously had a preference for the UBNZ deal in terms of value. So we will give it every opportunity. We have waited a long time and we'll wait to see how it pans out."
Asked if Natural Dairy and UBNZ's deal was still an option, Gibson said: "We still have a contract that requires a condition to be satisfied. There has been a decision around that and we are waiting to see what their response to that is, if any at all."