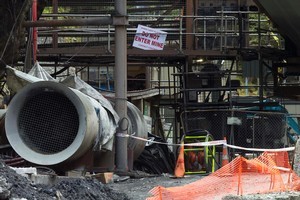 Suppliers to Pike River Coal stand to lose millions of dollars in the company's receivership while the outlook for shareholders is even bleaker unless there is a "miracle transaction" and the mine is sold.
Receivers for the $360 million company were called in by the biggest creditor, New Zealand Oil & Gas, at the request of Pike.
Shares in the coal company remain suspended until further notice after the NZX ruled late yesterday it had no contractual relationship with receivers PricewaterhouseCoopers.
"Accordingly, there is a risk that an equally informed market in PRC securities is not possible at this stage," the stock exchange operator said.
The receivership announcement followed a marathon meeting on Sunday when the board of NZOG - which is also a 29.4 cent shareholder - was told by Pike directors it was sliding towards insolvency as its cash reserves dwindled in the wake of the fatal mine blasts last month.
The BNZ and NZOG are owed more than $45 million but they will be paid out of any available funds before suppliers to the mine, some of whom had workers among the 29 killed.
Unsecured creditors, mainly in the upper South Island, are owed millions of dollars and those in Greymouth will meet today to discuss the receivership.
PricewaterhouseCoopers will also meet Pike River staff to discuss severance payments which are expected to be made before Christmas.
Pike River's board met on Saturday and found that while it had just drawn down $12 million from NZOG as part of a $25 million short-term loan, it wasn't enough. "That gave them some comfort to help with the rescue effort but they came to understand that even with that they were unable to continue," an NZOG spokesman said.
"It was clear that Pike was heading in reasonably quick order towards insolvency and it left the directors with no option because you can't continue on when you're insolvent."
John Fisk, a partner from PricewaterhouseCoopers, said the receivership will enable full consideration of the options available to the company in the recovery effort and to preserve the value of the assets.
The coking coal asset was at current prices estimated to be worth $4 billion with mining planned over the next 18 years.
Above ground infrastructure includes a new processing plant but this is built around coal from the mine. There is also the possibility of a business interruption insurance payout of up to $100 million although some doubt surrounds any payments until the result of the royal commis-sion's inquiry is known.
Although the receivers are now in charge, Pike River has told them it believes the main priorities are to look at options for the recovery effort and making the mine safe, co-operating with the inquiries, employees' entitlements and preserving the value of the asset, "while recognising that there is considerable uncertainty about the future of the mine".
An insolvency expert said even secured creditors could face a long wait to be paid.
"Whilst the BNZ and NZOG would have security around the coal seam and infrastructure assets they have little or no value at the moment."
It would be even tougher for contractors and suppliers who ranked just ahead of shareholders.
"The bad news is [for] the unsecured creditors because the prospects of them getting any money will now be remote," said the expert who did not want to be named.
He said prospects for shareholders were grim when trading resumes. Big shareholders include the Accident Compensation Corporation, the New Zealand Superannuation Fund and two Indian companies.
"If trading for something it's purely speculation unless there's a miracle transaction that's coming around the corner."
NZOG had discussed its plans to sell down its stake in Pike River before the November 19 blast.
"We are just one of them who face a very long wait for the possibility of getting any value back."
Jason Familton of First NZ Capital said yesterday's move was a logical step, given the length of time it would take to get the mine running again, if that was possible.
"That's why a receivership at this stage makes sense - you can park the asset."
Shares in NZOG closed down 2c at 87c yesterday.
Greymouth Mayor Tony Kokshoorn said the receivership was not unexpected but should have been delayed until after Christmas.
"There's no compassion one week out from Christmas, these families and the workers at Pike River coal mine have been going through hell, then all of a sudden they get this bomb shell put on them," Kokshoorn told Radio New Zealand.
"One week out from Christmas it's all about money, what about the families of the dead, what about closure," he said.
Questions needed to be asked of NZ Oil and Gas, who had 30 per cent ownership of Pike River Mine, about the timing of the announcement, he said.
There also needed to be clarification about who was paying for recovery efforts as some local contractors, who worked on the recovery were yet to be paid, he said.
Order of payment
1. Wages for staff, the IRD
2. Secured creditors - BNZ, NZOG
3. Unsecured creditors - suppliers
4. Shareholders - including taxpayer-owned funds