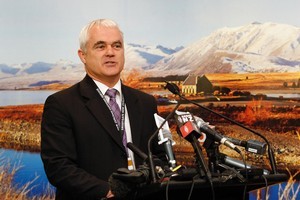 A new air link between China and New Zealand could boost tourist spending by up to $50 million a year.
China Southern Airlines will early next year start thrice-weekly services from the southern city of Guangzhou - China's third-largest - in what Auckland Airport says is a "massive opportunity for New Zealand Inc" and hopes could be the start of more frequent services.
China is this country's fastest-growing tourist market with numbers increasing by 11 per cent to 116,000 in the year to October and their spending up 17 per cent to $365 million.
China Southern Airlines is that country's biggest airline and flies to 162 countries and 841 cities. It has an extensive internal network within China with hubs in Guangzhou and Beijing.
The airline will initially fly via Melbourne but said at the launch yesterday it would increase frequency within a year and consider direct flights if the initial service proved successful.
The new Guangzhou-to-Auckland route will initially be served by A330-300 aircraft (284-seat, four-class) and this equates to over 88,000 additional seats on offer each year.
China Southern Airlines' chief executive, Tan Wangeng, said the route was promising.
"We believe New Zealand is an aviation market with huge potential."
Air New Zealand is the only other airline offering direct services to mainland China from this country, flying five times a week to Bejjing and Shanghai.
Auckland Airport chief executive Simon Moutter said the new service could be a game changer because of China Southern Airlines' domestic connections.
"Strategically our highest-ranking objective was to bring a Chinese carrier to New Zealand. It's a massive market and you need a brand that is known in that market to maximise the potential of the route."
About 46 million Chinese travel overseas a year but only 0.3 per cent of them come to this country.
Chinese rank fourth behind those from Australia, Britain and the United States. Moutter said the new services could boost this, given the strength of the airline's brand in China.
A Boston Consulting Group report published last month estimates the population of China's middle-class and affluent consumers will increase from 150 million to more than 400 million over the next decade, providing a huge potential high-spending tourist market.
On average Chinese visitors spend over $300 a night in New Zealand, second only to those from Japan.
Guangzhou (formerly Canton) is the capital of the Guangdong province with a population of close to 12 million people, and is the main manufacturing hub of the Pearl River Delta. It has been a sister city with Auckland since 1989.
Auckland Airport worked on the deal for two years and it involved 12 visits to the region by staff.
New long-haul development slowed in the wake of the global financial crisis but there are signs of a recovery next year with Jetstar starting flights to Singapore, Malaysian Airlines increasing the number of its flights to Kuala Lumpur and Taiwan's China Airlines starting a new three-flights-a-week service from Taipei via Brisbane starting in January 2011. While Continental Airlines' planned services to Houston due in November have been delayed by Boeing 787 delays, it still intends to begin flying the route in 2012.
Moutter said the outlook was encouraging.
"We're seeing some life in the market very much on these Asian routes which have been our focus. They've got airlines who are feeling good about life and lots of planes on order."
If the capacity filled up the airport would have "quite strong" passenger growth next year.
BIG OPERATOR
* China Southern Airlines is the largest carrier in Asia and sixth biggest in the world.
* It carried over 66 million passengers last year.
* It flies to 169 countries.
* Flights operated to NZ will offer first, business, premium economy and economy classes.