This week we celebrate those who are leading the way through the tough times as we count down to naming the New Zealand Herald Business Leader of the Year. The winner will appear in the Weekend Herald on Saturday.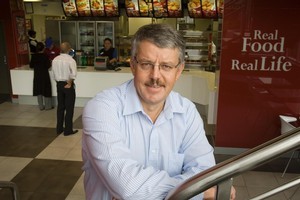 Russel Creedy has led the turnaround at Restaurant Brands, which is among the sharemarket's top performers for the second year in a row.
He arrived from South Africa in 1994 without a job, any contacts or anywhere to live but since taking over at Restaurant Brands has won praise from investors, analysts and a union for transforming the company, which was in the doldrums.
Restaurant Brands is the franchise holder for Pizza Hut, KFC and Starbucks and Creedy joined the company in 2001. He worked as a supply chain manager, Pizza Hut manager and was on the KFC relaunch team.
Creedy's timing was good, taking the top job in 2007 as the recession was about to encourage diners to trade down to fast-food options, better opportunities were emerging on good retail sites and the squeeze on labour was about to ease.
But it was his unswerving approach to reshaping the business and his attention to detail that have allowed the company to capitalise on these circumstances.
A layer of managers between the chief executive and store managers was cut, Restaurant Brands quit making its own television adverts - instead using voiced-over Australian and American ads. It also renegotiated its supply agreements.
Most importantly, there was a greater emphasis on the company's star brand, KFC. The KFC revamp meant new colours, lighter stores, more space and not so much of Colonel Sanders.
Creedy has also introduced better staff training and profit share schemes for some of the company's 4500 workers.
The 51-year-old told the Herald earlier this year that a leap into the unknown is sometimes unavoidable.
"Change is necessary, you don't always know ... where you're going to end up, but you've got to back yourself. Procrastination will kill any business, no matter how good it is."
OTHER NOMINEES
Eric Hertz - 2degrees chief executive
Jonathan Ling - Fletcher Building chief executive
The winner will appear in the Weekend Herald on Saturday. In the meantime we would like to hear from you. Email us at business@nzherald.co.nz