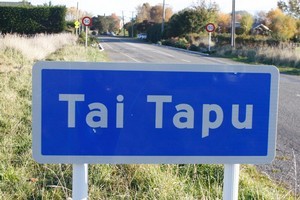 A huge multinational bottled water company which is threatening to pull out of Fiji because the coup administration there wants to increase the resource tax on the water it exports has a back-up - an artesian supply in the South Island.
Fiji Water has threatened to close its water bottling plant in Fiji after the government announced an increase in business tax on bottled water from a third of F1c to F15c (NZ10.6c) a litre.
The company has a back-up water source in Canterbury, where it owns the Spring Fresh brand of bottled water.
In September 2008 it bought SpringFresh Ltd, the 10th largest bottled water brand in New Zealand, sourced from an artesian aquifer located at Tai Tapu near Christchurch.
At the time Fiji Water said the acquisition of Spring Fresh and assets from a related company included the bottling facility and the land and water rights of the SpringFresh aquifer.
Fiji Water is part of a group of food and beverage companies, and is owned by two Southern California billionaires, Lynda and Stewart Resnick.
Court documents submitted by the company in 2008 showed that Fiji Water was owned by an entity in Luxembourg, a tax haven, and recent Swiss financial records showed Mr and Mrs Resnick transferred Fiji Water assets to companies in Switzerland.
Fiji Water plant bottles around 3.5 million litres of water each month for sale at a typical retail price of US$3-$4 ($4-$5.37) a litre, mostly as a "trendy" product for affluent Americans. Its profile has skyrocketed as celebrities such as Justin Timberlake and Mary J Blige have been photographed downing the drink, which comes from a deep aquifer on the main island, Viti Levu, the AFP newsagency reported.
Company president John Cochran said in a statement issued in California that the company was hoping to work with the Fijian government to resolve the tax dispute, but added that "the country is increasingly unstable, and is becoming a very risky place in which to invest".
Fijian Prime Minister Frank Bainimarama has argued Fiji Water has paid less than a million dollars in total corporate tax over the past two years, the Fiji Broadcasting Corporation reported. The company has said it provides a lot of jobs, 20 per cent of Fiji's exports and 3 per cent of its gross domestic product.
Now it has sent 400 Fijian workers home and told them the bottling plant is closing down immediately. The union representing the sacked workers has written to the Fiji government asking it to reconsider the tax boost.
In 2008, the interim government rescinded a F20c /litre tax after Fiji Water briefly shut down its plant and put 700 people out of work.
- NZPA