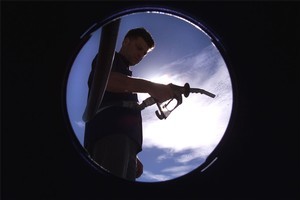 Oil prices have hit their highest level in 25 months nudging US$88 a barrel, although a New Zealand analyst is not expecting a return towards sky-high prices of US$147 a barrel.
Yesterday's price surge broke oil's recent strong inverse correlation with the dollar, which rose to a one-month high against the euro.
Oil traded higher after data from the United States Energy Information Administration showed a 3.3 million-barrel drawdown last week, compared with forecasts for a 1.4 million-barrel build for the week to November 5. US crude for December delivery settled US$1.09 higher at US$87.81 a barrel, the highest close since October 8, 2008. In the eight-day stretch, US crude has gained US$6.38, or 7.8 per cent.
petrol and heating oil led gains in the complex after a deeper-than-expected decline in inventories thanks to stronger demand, stoked partly by distillate exports to Europe, even though refiners stepped up production.
ICE December Brent crude ended up US63c at US$88.96, the highest close since October 3, 2008. Brent crude has also gained in seven of the past eight sessions, advancing US$5.81, or 7 per cent, in that span.
Oil hit the record US$147 in July 2008 but tumbled to about US$30 as the global financial crisis hit months later.
A director at Wellington energy analysts Hale and Twomey, Richard Hale, said there was not the same sky-high demand for diesel which underpinned the mid-2008 price spike. There was also still refining overcapacity around the world, which also helped to suppress prices.
Oil had been trading in a relatively narrow band this year and the New Zealand economy had been insulated by the relatively high value of the New Zealand dollar.
The predictive Nymex index showed average oil prices were not expected to rise dramatically over the next six to eight years, he said.
A Lincoln University associate professor said New Zealand's biggest export industry, tourism, was vulnerable to steeply rising fuel prices. Suzanne Becken, a specialist in sustainable tourism, said a return towards 2008 oil prices would be bad news for tourist growth. Some airlines collapsed and others added steep charges as jet fuel hit record highs.
Analysis showed that the Australian market, which had been the bedrock of New Zealand tourism in the past few years, was especially sensitive to any increase in air fares although US visitors were not worried by changes to fares, she said.
A US analyst said data was bullish across the board as crude, petrol and distillate stocks yielded decent draws, significantly more than expectations.
The increase in refinery use was not enough to offset strong demand for petrol and distillates, said Chris Jarvis, senior analyst at Caprock Risk Management in New Hampshire.
"Overall the market will likely view this as bullish, which underpins strong secular trends on the macro level coupled with concerns over a weak dollar, reinforcing the bullish sentiment for the energy complex."
In addition to market fundamentals, oil prices have broken out of this year's US$70 to US$85 range, supported by the Federal Reserve's massive Treasury bond buying plan to speed economic growth.
- AGENCIES