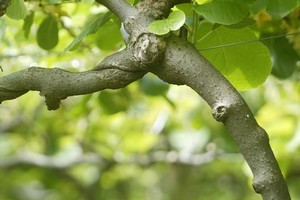 The Ministry of Agriculture and Forestry has quarantined a second kiwifruit orchard in the Bay of Plenty following a suspected outbreak of Psa, reports Radio New Zealand.
This follows authorities quarantining an orchard in Te Puke yesterday in an effort to contain the disease.
The second orchard neighbours the first and also produces gold kiwifruit.
Following the discovery that the disease is spreading Agriculture Minister David Carter will travel to the region this evening.
Zespri is refusing to identify the exact location of the orchards and says it is reviewing its confidentiality agreements, reports Radio New Zealand.
Earlier today, Labour biosecurity spokesman Damien O'Connor blamed Government funding cuts for spurring an outbreak of the devastating kiwifruit disease Psa.
He has told Parliament that Biosecurity Minister David Carter cut 54 biosecurity jobs in 2009.
Funding was diverted away from Ministry of Agriculture and Fisheries border control and policy to create a new computer system for the organisation, he said.
"We would be remiss not to point out the potential pressures that biosecurity has been under," Mr O'Connor said.
"We hope none of these cuts hinders the ability of MAF to get on top of this alarming disease to the kiwifruit industry."
His concerns were echoed by Green MP Kevin Hague.
He said Government cuts had made New Zealand vulnerable to diseases like Psa.
There are now "gaping holes" in the country's defences against microorganisms, he said.
Biosecurity Minister David Carter rejected the pair's claims, saying National had not taken funding away from biosecurity.
It receives $750m funding annually in New Zealand, he said.
"In fact, spending on biosecurity increased in Budget 2010," he said.
"Our commitment to providing the most robust biosecurity system possible is unfailing."
He reassured kiwifruit growers that the Government is working on an effective response to the crisis.
Technical experts from MAF, ZESPRI and Plant & Food are on the orchard where Psa was discovered today, he said.
Industry meetings are underway and growers are being given material to help them screen their own property for the disease.
He will be travelling to the Bay of Plenty today to meet with growers and industry officials and is working to reassure trading partners in the USA and China.
"This is a time for a considered and responsible approach and I am encouraged that all primary sector stakeholders are supporting the kiwifruit industry and Government as we work out exactly what we are dealing with," he said.
"The best people possible are working day and night to manage this threat to a crucial primary industry.
"Our commitment to providing the most robust biosecurity system possible is unfailing."
A suspected case of Psa was discovered by a kiwifruit orchardist in the Bay of Plenty last Friday.
Last night, test results confirmed the disease.
Those responding to the outbreak are now focusing on determining what strain of Psa it is, how widely spread the disease is and if containing it is possible.
The bacteria badly damaged the kiwifruit industry when it was discovered in Italy.
There are fears it could wreak similar havoc on New Zealand's $1.4 billion industry.
Gold kiwifruit are the most profitable in New Zealand, making up 77,000 tonnes or 21 per cent of Zespri's production last season, but about 34 per cent of the crop's earnings: $285.7 million.
Zespri Chief Executive Lain Jager has told the Herald that it looks like the outbreak is containable, but that it may require "cutting and burning".
- Additional reporting by Christopher Adams