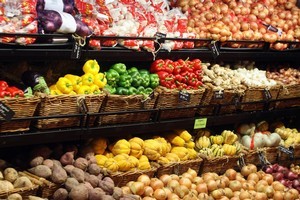 Food is also expected to be a big contributor, driven by higher prices for fruit and vegetables. Photo / Hawke's Bay Today
Government charges are expected to swell the September quarter inflation numbers due this morning, even before the GST increase on October 1.
The market is expecting a 1 per cent rise in the consumers price index for the quarter, but because of an inflation blip in the September 2009 quarter, that would make for an annual inflation rate of 1.4 per cent, a 10-year low.
Annual increases in local body rates, alcohol and tobacco excise, and vehicle registration fees will push the inflation rate up.
But the impact of the emissions trading scheme's extension to the energy and transport sectors on July 1 is expected to be more modest than at first thought.
The Ministry of Economic Development's quarterly survey of retail electricity prices recorded a 1.7 per cent increase, while petrol prices rose 2.6c a litre or 1.5 per cent at the start of the quarter.
Food is also expected to be a big contributor, driven by higher prices for fruit and vegetables.
"Fresh fruit and vegetable prices normally rise in the September quarter, but the wetter than usual winter has pushed prices higher than implied by the usual seasonal influence," said ANZ's head of market economics, Khoon Goh.
More broadly, however, he believes an environment of weak demand has eroded firms' pricing power.
"Anecdotal reports suggest that retail volumes continued moving in the September quarter but that firms were discounting to achieve the sale," Goh said.
"We expect signs of retail discounting to be evident in larger than usual price falls for consumer durables, clothing and footwear."
As well, he thinks the increase in GST may have caused some firms to hold off price increases until October.
ASB chief economist Nick Tuffley expects to see evidence of rent increases, flowing from tax changes in the Budget.
"In addition, builders continue to report higher costs," he said.
"However there have been signs they have had some difficulty passing these costs on."
Reconstruction work arising from the Canterbury earthquake is expected to soak up excess capacity in the building industry and Tuffley expects an acceleration in construction costs inflation next year.
In addition, the delayed effects of the recent strength in the dollar and a recovery in wage growth would put upward pressure on prices over the coming year, he said.
Statistics New Zealand says the increase in GST, if fully passed on, will raise the CPI by 2 per cent.
The Reserve Bank forecasts the annual inflation rate to peak at 4.8 per cent by the middle of next year but then to fall back to 2.2 per cent a year later.
But Tuffley considers the central bank is optimistic in assuming medium-term inflation expectations will decline over the next three years, despite the sharp spike in inflation.
The bank bases this assumption partly on the fact that inflation has been near 2 per cent, the mid-point of its target band, for the past year and a half.
"It pays to bear in mind this was a period when the economy was just coming out of the depths of the recession, and hence there was still a lot of spare capacity in the economy," Tuffley said.
"The relatively low pricing intentions in the latest business surveys do suggest inflation pressures are subdued for now.
"However we expect an improvement in demand over the coming year will give firms a greater ability to pass on rising costs."