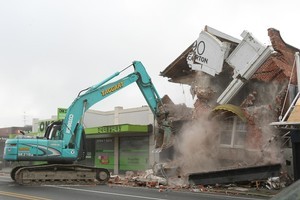 The earthquake that struck Christchurch may be the fifth-most expensive for insurers based on projections from Risk Management Solutions.
The quake may cost insurers NZ$2.1 billion to NZ$3.5 billion, RMS said today in a statement.
The 7.1-magnitude New Zealand earthquake damaged as many as 6000 buildings, RMS said in a statement.
It may be among eight quakes to cost more than US$1 billion, led by the $22 billion Northridge, California, earthquake in 1994, according to inflation-adjusted data provided by the Insurance Information Institute and reinsurer Munich Re.
"The potential that claims will be assessed 'generously,' in particular when older buildings get reconstructed to the latest building code" would increase insurer losses, said Robert Muir-Wood, chief research officer at Newark, California-based RMS.
Claims made to private insurers may cost $400 million to $1.4 billion, according to RMS. About two-thirds of insured losses from the magnitude 7.1 quake will be covered by the Earthquake Commission which sells policies to residential property owners.
The Earthquake Commission received 56,890 insurance claims so far, with 81 per cent of the volume from Christchurch, according to the commission's website. It expects to handle as many as 100,000 claims.
New Zealand's government authorised the Earthquake Commission to sell stocks and bonds to raise more money to deal with the claims. The commission's Natural Disaster Fund had $4.4 billion in bonds, stocks and bank bills at the start of September, Finance Minister Bill English said.
Shops and factories closed after the quake, which cut power and damaged more than 100,000 homes and severed water and sewage lines in and around New Zealand's second-largest city.
Hannover Re, Germany's second-biggest reinsurer, estimated the cost to insurers from the quake would be $4 billion. Chief Executive Officer Ulrich Wallin said his company's loss from the earthquake won't be a "three-digit million-euro figure" at a conference in Monte Carlo on September 13.
The quake that occurred in Chile earlier this year may cost the industry as much as $8 billion, according to catastrophe-modellers AIR Worldwide and Eqecat Inc. That would make it the second most expensive to insurers, followed by two in Japan - the 1923 quake in Tokyo, at $7.4 billion, and the 1995 one in Kobe, $4.2 billion. Insurance did not cover much of the January earthquake in Haiti, which killed more than 200,000.
- Bloomberg