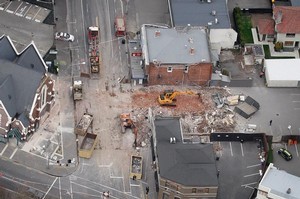 I was in the Coromandel when the earthquake shook Christchurch last weekend.
No radio, poor TV reception and a number of commitments, plus the fact that the quake hit in the early hours of the morning (after the morning newspapers had gone to print) all combined to mean that I didn't know exactly what had happened (save for a text from my husband telling me Christchurch had been hit by a big earthquake), until I returned to Auckland much later Saturday evening.
Knowing there had been a big earthquake, and not knowing much more about it, combined with the Southern lanes of the Auckland motorway being closed and there being very little traffic on the road, made for a quite eerie last half hour of the drive.
That said - I freely acknowledge that my eerie last half hour of my drive pales in comparison with what Cantabrians have faced over the last week.
In terms of the impact, while Canterbury is clearly worst hit, it does go wider. Wider than you might first think... And gradually, the impacts from a business perspective, on employers and employees, have been realised.
Take for example: I was in a furniture store in Auckland on Sunday afternoon and a gentleman at the counter beside me wanted to buy a table.
That was fine, the store was happy to sell it to him, but they said, our stockroom is in Christchurch, we don't know how it has been affected by the earthquake, so we can't tell you when we will be able to deliver it.
By Sunday evening the various media outlets were advising employees to contact their employers before attending work on Monday. Employees were advised to check whether their offices would be open and what the employer wanted them to do, as opposed to simply heading into the office as usual.
For many, their offices will be damaged and work will be impossible. Others may have damaged homes and reduced utilities such as power and water, which is likely to make getting ready for work, as per usual, more difficult. Other employers may elect not to open for business as usual, with other things to focus on, or questioning whether it will be worth it.
By Tuesday we had the first real employment law related headline - 'quake hit workers worried about pay loss'. The article outlined concerns being expressed by a number of employees about whether they would be paid if they were unable to go to work due to the fact that many businesses are unable to open because of quake damage.
Some employers have been contacting employees reassuring them that they would be paid if they were unable to work and letting them spend time with their families, but the reality of the situation is that such generosity may not be available to all employers, particularly smaller employers or employers already struggling financially as a result of the recession.
As a general rule, where an employee is able to attend work but the employer cannot have the employee at work, the employee is effectively being suspended, or agreeing not to work, and in such circumstances, an employee is generally entitled to be paid.
However, where an employee is unable to work, an employer may be entitled to say there is no obligation for you to be paid and as such the time should be taken as leave, either paid or unpaid, depending on the circumstances.
It is of course open to the parties to agree other workable alternatives. (Advice on this topic is also covered in an earlier article in which I am quoted.)
The other consideration is the operation of a force majeure, or 'act of God' provision. These types of clauses have attracted attention on and off over the last few years, following the Avian and then Swine flu outbreaks.
Force majeure clauses are common in commercial contracts, less common in employment agreements. A force majeure clause provides for performance of the contract to be excused if it is rendered impossible due to an act of God. Theoretically it is possible to cover employment in a force majeure provision, for example by setting out that an employer is not obliged to provide work or payment following a force majeure event. But the reality is, most employment agreements don't.
Now, a week on, the harsh reality is setting in, including the cost of rebuilding and recovery. It is important to factor into those costs, the cost of lost business and the costs for both employers and employees.
Relief packages (such as the $350 subsidy for employees of employers with less than 20 employees for a period of 4 weeks), benefit packages and assistance to the business community may go some way to achieving that. However, it appears the ripple effect of the big shake will continue to flow for some time.
What do you think: should the relief package be limited to employers with less than 20 employees? Would you be in a position to pay your employees if a natural disaster occurred in your region? Does your organisation have appropriate contingency plans in place?