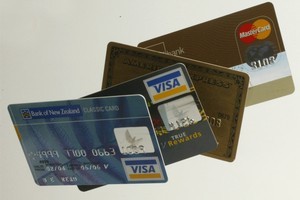 Retailers and restaurant staff are upset over the length of time it is taking them to process the new "chipped" credit cards that are replacing every credit card in the country.
Chip cards, which are inserted into machines as opposed to being swiped, are replacing magnetic stripe (swipe) cards because they are more secure and cannot be copied as easily.
But some business owners, including Luke Dallow, owner of Auckland bars Sale St and Chapel St Bar & Bistro, are finding the new cards "a pain in the rear end".
"One major problem is that waiting time. With the swipe card it was fairly instant. Now there's about a 15-second delay.
"You speak to a lot of retailers and they say it's the same problem and customers get frustrated with it.
"Customers are looking at the staff and going: 'Don't you know how to use an Eftpos card?' It's quite a negative sort of thing on our staff .
"It's quite frustrating for the staff and as a customer I reckon it's very laboursome."
Dayna Siarkiewicz, manager of the Viaduct's Degree Gastrobar, said the main problem was lunchtime, when people wanted to pay for meals separately and get back to work quickly. "We can appreciate the reason why the technology's been brought in, of course customers want the added security, but it can get frustrating.
"Nobody wants to be running a busy nightclub when that length of time is required for every transaction when it can be as quick as Eftpos is usually."
Newmarket Business Association chief executive Cameron Brewer said the transaction times were disappointing because slower service reflected badly on the retailer, not the card provider.
"The last thing New Zealand retailers need is for transactions to take more time. It's a difficult environment across the country at the moment and this has got a significant annoyance factor about it.
"What this does is, when shops are busy either with an all-day sale or in the lead-up to Christmas, is that it just lengthens the queues and when people see long queues they sometimes defer their purchasing.
"People at the back of the queue think: 'This is taking too long, I'll go and do something else and come back,' and they never come back."
Leading supermarkets say they have not received any complaints about transaction times.
Paul Whiston, head of sales and marketing for electronic payment provider Paymark, asked retailers to bear in mind that while the new technology took longer, it was much safer. He said more than 55,000 of about 100,000 of the company's terminals still needed upgrading.
Smarter cards
* Credit/debit cards are being upgraded with chips instead of magnetic strips, which criminals have been copying.
* Chip cards are more secure because the information on them is much harder to copy.
* Retailers must upgrade their Eftpos terminals by June 1, 2011.