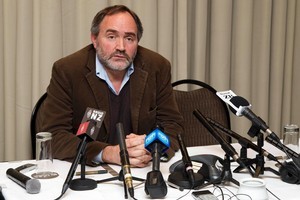 South Canterbury Finance ramped up its risky real estate loans after it signed up to the Government's scheme that protected its investors' money, the company's chief executive Sandy Maier said last night.
SCF went into receivership yesterday and the Government is paying out $1.6 billion under the Retail Deposit Guarantee Scheme.
Bad loans were the main reason for its downfall, and Mr Maier revealed the high-risk tactic in an interview on TV3's Campbell Live programme.
Asked whether it had been cynically exploiting the government guarantee, Mr Maier replied: "It might have been cynical, it might have been merely incompetent ... it probably violated a lot of prudent lending criteria."
He said he didn't know exactly why it had happened.
"Personal egotism, misreading, out of control ... whatever it was, there's no real positive name for it," he said.
"I guess the best you could say was it was somebody's idea of aggressive growth. This happens in the lending industry, cyclical excesses and rushes of blood to the head. South Canterbury Finance was poorly controlled and managed for some time."
Finance Minister Bill English, appearing on the same programme, said the management team at the time would have to be asked why they acted the way they did.
"Certainly they made loans which turned out to be bad loans and can't be recovered," he said. "They essentially lost $500 million or $600 million and the taxpayer is obliged to make up the difference to the depositors."
Mr English said the company's managers might argue they were caught by the global financial crisis.
"For the last 12 months or so we've had advisers in there ... and until last week there was still a chance the taxpayers wouldn't have to pay up at all," he said. "However, that didn't happen and so we've got this bill for what is essentially bad management and bad decisions by a company that was probably growing a bit fast."
But Mr Maier indicated the Government could take even heavier losses.
"It's good not to have a fire sale but taking three to four years would be a fantastically expensive way to go in this. Having receivers, lawyers and all the rest - the cost eats your head off.
"Salvaging value in these sorts of situations really depends on speed, it's a going concern business right now, but my view is it will deteriorate rapidly over time," he told Radio NZ.
"I've long believed the highest, best value would be gained by selling it as a going concern."
But the company's majority shareholder and founder, Allan Hubbard, says he could have saved the business if he had not been removed from the board. Mr Hubbard said he had invested hundreds of millions of his own investments in the company.
"It has been deeply frustrating and hurtful, over the last nine months, to have been sidelined by my fellow SCF directors, and subsequently strait-jacketed by the government regulators, from working to save South Canterbury," he said in a statement.
"Surely they realised that by freezing me out and taking over control of my affairs that they would be dealing a body blow to South Canterbury Finance?"
- NZPA, ADDITIONAL REPORTING: ADAM BENNETT