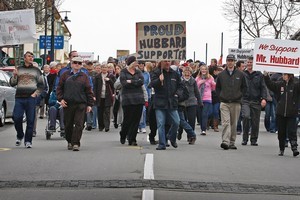 The Serious Fraud Office is due this week to outline its next move in its investigation of Allan Hubbard.
Progress in the SFO inquiry comes as supporters of the Timaru businessman step up their campaign following the release of a separate statutory manager's report.
Hubbard supporters yesterday wrote to Prime Minister John Key saying the investigation and placing Hubbard and his wife Jean in statutory management was divisive and unfair.
They say "the only evidence the Government has produced remains speculation and rumour, with no evidence whatsoever to support the reports so far produced".
SFO director Adam Feeley said last night he was considering a preliminary report which could result in one of three outcomes - charges being laid, the investigation stopped or it being extended.
"I can't comment on which of the three it might be.'
The statutory manager's report released on Friday contained matters of interest, but it had turned up nothing new for his investigators, Feeley said.
"With our inquiries we've identified the same things that they've identified. There are issues there around prospects of returns to investors that while of general interest are not of interest to us in the sense that it's not our role to be predicting what recoveries might be," he said.
The report by statutory managers Grant Thornton had shown how complex the SFO's task was.
"I guess the statutory managers are making good progress on their issues and probably coming out of that is a better public understanding of the range and complexity of the issues we're facing."
In the letter to Key the 'Stand by Hubbard' group appealed to him to extend the same compassion toward Hubbard that he had to investors over the years.
The Government put Hubbard and his wife Margaret under statutory management on June 20, with seven charitable trusts, Aorangi Securities, and later, Hubbard Management Funds.
The report by Richard Simpson and Trevor Thornton of Grant Thornton New Zealand said investors in Hubbard's Aorangi Securities, already stressed because of the frozen funds, have been told by Grant Thornton they are unlikely to see any significant return of capital until next year, at the earliest, but a small payment may be made during October.
And about 300 investors in Hubbard Management Funds (HMF) were told the company overstated its value by at least 25 per cent on March 31, reporting non-existent investments and cash balances. HMF assets were worth only $61 million at the end of March, not $82 million as stated.
Hubbard's widespread investments in the dairy sector are unravelling as lenders are unable to pay, leaving an estimated 50 per cent shortfall in interest payments.
Many of Aorangi's loans are to about 25 dairy farms and Grant Thornton has estimated only 17 loans out of 51 will meet their September 30 deadline interest payment obligations - a shortfall of $1 million, or 50 per cent of what is due to Aorangi investors.
"We do not yet know the exact value of Aorangi's investments in the farming industry."
In the letter to Key they say the Hubbards are suffering from unbearable strain. "We ask you to extend the same compassion and generosity toward Allan and Margaret Hubbard that they have to their investors and creditors over the years."
Hubbard is associated with South Canterbury Finance, which is not in statutory management, but is at the centre of bailout talks to avert a collapse of the $2 billion company.
He was South Canterbury's chairman until March and is president for life.
Different views:
"We do not yet know the exact value of Aorangi's investments in the farming industry."
- Grant Thornton
"The only evidence the Government has produced remains speculation and rumour, with no evidence whatsoever to support the reports so far produced."
- Hubbard supporters

- additional reporting: OTAGO DAILY TIMES