Niwa is hoping its new $12.7m computer will yield more accurate rainfall predictions.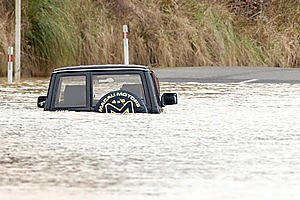 Weather forecasting is a crucial, if thankless, task.
When the forecast is bad, but accurate, there's a tendency to shoot the messenger. When the forecast is good, and the weather bad, we feel fully entitled to blame the rain on the forecaster. Yet when the sun's out, as predicted, who ever fired off a note of thanks?
Forecasts help us decide everything from when to do the washing to whether to go camping for the weekend.
Some people's lives - fishermen's, for instance - can depend on them. So we should spare a thought for the poor forecaster.
It's rumoured that one of the reasons for the suicide of scientist Robert FitzRoy, who set up Britain's first weather office, was the inaccuracy of his forecasts.
So it might seem odd that FitzRoy's name has been given to a new $12.7 million supercomputer at the National Institute of Water and Atmospheric Research (Niwa), which will be commissioned by the end of the month to help with weather-related hazard forecasts.
Regardless of why he decided to end it all, FitzRoy is an appropriate name for a variety of other reasons, says Dr Michael Uddstrom, whose baby is the new 12.5-tonne computer. Not only was the 19th-century Brit the first scientist to attempt systematic weather forecasting but he also had a New Zealand connection. FitzRoy was a hydrographer and captain of the ship Beagle, which made two voyages to chart the coastline of Tierra del Fuego.
The second, on which Charles Darwin kept him company, lasted five years and took them all the way to the Bay of Islands.
FitzRoy later returned to New Zealand as Governor after a spell as a British MP, distinguishing himself, according to the Dictionary of New Zealand Biography, by his "determination that the Maori should be treated with fairness and justice".
Aside from his other accomplishments, Uddstrom says "he recognised that by putting out an observing network of common instruments ... and using telegraph to get that information back to a central site, you could draw large-scale maps of what the weather was like."
That remains the process by which forecasts are put together, though the instruments have changed somewhat.
While FitzRoy used barometers, the new supercomputer is Niwa's prize instrument.
"I know people don't usually think of computers in that sense but for us it's a scientific instrument in a laboratory," Uddstrom says.
It is certainly no ordinary computer.
It has the equivalent processing power and data storage capacity of several thousand laptops and can carry out 34 trillion calculations a second. It will run Niwa's weather and wave prediction software about 100 times faster than the machine it replaces.
On FitzRoy, models that used to take 80 minutes to complete on 40 per cent of the old supercomputer take eight minutes using about 4 per cent of its capacity.
That might still seem slow compared with manipulating an image on a standard desktop computer, which might take seconds. But Uddstrom points out that what FitzRoy is being asked to do is process millions of temperature, air pressure and humidity measurements from land and sea surface observations, commercial aircraft, weather balloons and satellite images.
To translate that into taxpayer value, it should result in more accurate warnings of hazards such as floods, reducing the country's annual damage bill of between $60 million to $100 million a year.
"One of the holy grails of weather prediction is ... to achieve quantitative precipitation forecasting - the right amount of rain in the right location," Uddstrom says.
FitzRoy will help by increasing resolution of the grid on which forecasts are overlaid from 12.5km to 1.5km.
Another goal is extending forecast range. With state-of-the-art software - Niwa uses the British Meteorological Office's Unified Model - and hardware, acceptable two-day forecasts can be produced.
"To go beyond two days requires us to increase the model size and the data we're going to use to the point where we would almost need a larger machine again." This is already being planned. FitzRoy's capacity will be increased by half next year or the year after with hand-me-down processors from the British Met Office.
In the end, though, as the scientist FitzRoy's demise might suggest, a forecast's value is only as great as the attention people pay it.
"If people don't think it is very good, then they won't use it," says Uddstrom.
Now, if they could build a machine to deliver both bang-on forecasts and good weather, that would be a supercomputer worthy of the name.
Counting the cost
Insurance claims for major weather events:
* 2010 (so far): $14.5 million
* 2009: $4.5 million
* 2008: $86 million
* 2007: $95.6 million
* 2006: $51 million
Source: Insurance Council of NZ
Anthony Doesburg is an Auckland technology journalist