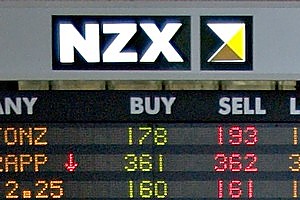 The New Zealand sharemarket dived today as fear gripped global markets, and further bad news from Allied Farmers and a bleak outlook statement from Steel and Tube added to investors' woes.
Just seven stocks rose on the market today and turnover was worth a paltry $58.77 million.
But brokers said the New Zealand market was again less volatile than other markets and they remain optimistic about a big flow of earnings results in the next few weeks.
The benchmark NZX-50 index closed down 29.104 points, or 0.959 per cent, at 3006.905, having opened down 29.71 points. There were 70 falls among the 106 stocks traded today.
"We are performing better than most offshore markets. We don't have as much volatility as offshore markets," Grant Williamson, director at Hamilton, Hindin, Greene.
Allied Farmers' shares fell 34.21 per cent to 2.5c after Standard and Poor's slashed the company's credit rating and the company again slashed the value of assets acquired from Hanover Finance.
Steel and Tube fell 7c to 215 after reporting a 78 per cent fall in annual profit.
"It was pretty much in line with what was expected but they had a pretty cautious outlook," Mr Williamson said.
Fletcher Building, which reports next Wednesday, fell 10c to 747 as it is also exposed to construction markets.
Turners and Growers fell 5c to 140 even though it expressed optimism about its full year result in its interim report.
Telecom fell 3c to 201 a day in which the Telstra result in Australia painted a bleak picture going forward. Telecom reports next Friday. Telstra fell 40c to 373 in this market.
Air NZ was unchanged on a day in which Qantas presented mixed results to the market.
Freightways lost 6c to 265 ahead of its annual result on Monday.
Kiwi Income Property Trust eased a cent to 93 after telling unit holders at its annual meeting that the commercial office market was under pressure in Wellington and Auckland from new supply.
Contact Energy rose a cent to 570 and Michael Hill rose a cent to 67. Both report next week.
Nuplex fell 6c to 294, SkyCity fell 5c to 301 and Hallenstein Glasson fell 5c to 385. NZOG fell 4c to 120 and Port of Tauranga fell 5c to 670.
The Dow Jones industrial average was down 2.5 per cent at 10,378.83, the Standard & Poor's 500 Index was down 2.8 per cent at 1089.47, and the Nasdaq Composite Index was down 3 per cent at 2208.63.
The Nasdaq was down 2.7 per cent for the year, while the S&P 500 was down 2.3 per cent and the Dow was down 0.5 per cent.
- NZPA