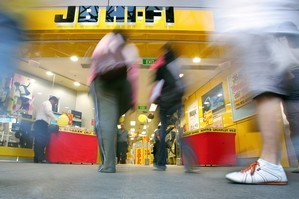 Cut-throat competition in electronics and lack of buying power have increased losses at JB Hi-Fi's New Zealand stores.
While sales grew 34.7 per cent at its 10 New Zealand stores, earnings before interest and tax (ebit) fell further into the red - from a loss of A$2.9 million ($3.6 million) last year to a loss of A$3.5 million in the year to June 30, 2010.
Across the Australasian group, ebit climbed by just under 7 per cent and net profit climbed by 26 per cent to A$118. Chief executive Terry Smart said that in its drive to stake out its position of offering lowest prices, margins had been squeezed.
"We want to be the best value retailer so therefore we will match the competition and drive our prices down even though it is costing us. But it is important for the long-term growth of the business."
Overall the company was "very pleased" with the sales results in New Zealand.
"With the economy not growing we are getting good comparative store growth and market share is continuing to grow. The challenge we have with New Zealand is that it is very competitive," he said.
Gross margins fell from 16.86 per cent to 15.57 per cent in 2010.
The chain has been in this country for the past three years and was still suffering from being a relatively small player. In Australia it has 210 stores.
"What we do lack in New Zealand is the scale. We can't leverage off our buying power in Australia. It is treated by suppliers as a standalone business and therefore we have to stand on our own two feet as a New Zealand company."
The cost of setting up a dedicated support office had also affected results, Smart said.
By Christmas JB Hi-Fi aimed to have opened three new stores - including a large store at Auckland's Sylvia Park.
"Once we get the scale we should see ourselves starting to move into profitability."
During the past year it cost A$2.5 million to close five Hill and Stewart stores and rebrand one. JB Hi-Fi bought the Hill and Stewart chain from its management in 2006.
Smart said the coming year could be tough in New Zealand. "In our forecasting we're not anticipating any major turnaround in the economy but what we are forecasting is that we will take market share off our competitors."
About 70 per cent of sales are electronic and other hardware and the remainder software, movies and music.
Across the group JB Hi Fi was expecting competition in electronics to remain hot.
In computers a new sub-product category had been established with the growth of tablet PCs such as the iPad. The digital television switch would help sales as would internet-enabled TV and 3D TV.