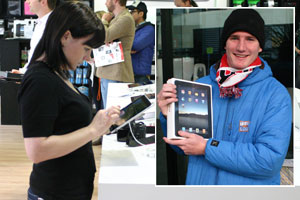 A small number of people lined up this morning where a radio intern had been waiting for two days to get his hands on the Apple iPad.
Marty Hehewerth, an intern at The Edge FM, endured the worst of Auckland's weather while he waited patiently for the chance to buy an iPad for his boss, DJ Dominic Harvey.
"I don't know why they decided to release the iPad in winter," he told nzherald.co.nz shortly before Magnum Mac opened its doors in Newmarket at 8am. "I've survived the elements, and I'm still at the front of the line."
Throughout the wintry ordeal, Heheworth kept his supporters updated on Twitter. For his trouble, he was given a free iPad of his own from from Parallel Imported, who have been selling the iPad for over two months.
"I'm just ready to have a play, he said. "These are awesome."
There was no early morning rush at Magnum Mac, with less than 20 people outside the store at opening time. One man left the queue to shop at nearby Noel Leeming after two employees convinced him to step out of the pouring rain.
An Auckland schoolteacher, who did not want to be named, said he was going to be late to work because he'd stopped to buy the gadget on account of the short queue.
"When I saw it wasn't stretched around the block I thought 'oh well, I can join that'", he said.
"This is the New Zealand version of a buying frenzy, isn't it? 15 people in a queue."
Magnum Mac employees admitted buyers into the store in small numbers at a time, and appeared to give preferential treatment to people who were willing to spend extra money on iPad accessories, such as cases and chargers.
A small number of customers who had been in the queue since 7am were left waiting while latecomers appeared to be ushered to the store counters with their accessories.
When questioned by one annoyed customer, an employee denied that people making extra purchases were receiving special treatment.
Magnum Mac is one of a select number of retailers stocking the iPad in New Zealand. It was reported today that the iPad was only available in Auckland, Wellington, Christchurch, Dunedin and Queenstown, despite the expectation that it would be on sale nationwide.
* To download the NZ Herald iPad App, click here
- NZHERALD STAFF