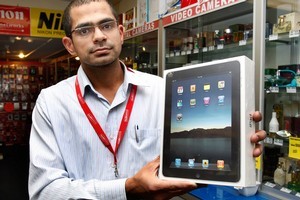 The iPad is nearly here, but people have been able to buy the tablet computer locally since May - at a cost.
The device will officially reach our shores tomorrow, generating feverish excitement among Apple supporters and technophiles.
Yet some stores, such as Parallel Imported, have been selling iPads for more than two months.
Queen St store manager Anshul Choudary said his store had sold 50 since May 3.
He said the company struggled at first to get its hands on the tablet because of demand overseas - more than three million were sold in the first 90 days in the United States. But iPads had trickled into the store, most of them already sold.
"We've never actually managed to make a display out of one, it's too popular ... they'll sell as soon as someone sees it."
The iPad allows users to watch videos, play music, surf the web, read e-books and run hundreds of applications from Apple's App Store.
The cost of being ahead of the crowd is, at most, $450. The most popular 3G iPad, the 64GB model, which is also wi-fi capable, sells now for $1894. From tomorrow the price for one at other outlets starts at $1349.
The cheapest model - the wi-fi device with 16GB storage - costs $1199 now but has a recommended retail price of $799.
A radio station is running a promotion with an intern sleeping outside Magnum Mac in Newmarket for two nights to try to get his hands on the "first" iPad in the country.
Marty Hehewerth set up camp yesterday at 8.30am braced for 48 hours of cold weather.
CHEAPER IF YOU WAIT
Cost today from Parallel Imported
* Apple iPad 64GB 3G Wi-Fi, $1894
* Apple iPad 64GB Wi-Fi, $1596
* Apple iPad 16GB Wi-Fi, $1199
Cost from tomorrow at all outlets
* Apple iPad 64GB 3G Wi-Fi, $1349
* Apple iPad 64GB Wi-Fi, $1149
* Apple iPad 16GB Wi-Fi, $799