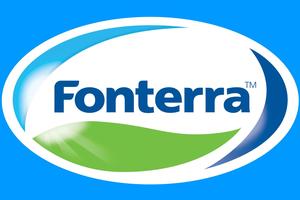 Fonterra has reported milk powder prices in its monthly internet auction fell around 13.7 per cent in its auction overnight as supplies started rising in response to higher prices in previous months.
The globalDairyTrade TWI index of prices in the overnight auction was down 13.7 per cent from the previous month. There was a record 57,000 tonnes of milk product sold in the auction, up from 35,600 tonnes the previous auction.
The result will worry some farmers who were expecting Fonterra's payout in the just started 2010/11 season to rise beyond the current official forecast of around NZ$7/kg to the potential indicated by Chairman Henry van der Heyden of NZ$8/kg.
Any sustained fall in dairy commodity prices would also take the wind out of the sails of New Zealand's economic recovery, which is being driven more by the export sector than the heavily-indebted household sector.
The New Zealand dollar dipped to 69.25 USc in early trade from 69.75 USc after the auction news emerged and as US stock markets gave up their early gains.
"The result reflected supply increasing globally in response to what has been a very strong price signal over recent months," said globalDairyTrade Manager Paul Grave.
"Concerns in the market about short term product availability, which to a large extent underpinned recent high prices, appear to have eased," he said.
The average price of anhydrous milk fat fell 14.1 per cent to US$4.620 per tonne, while the average price of skim milk powder fell 11.8 per cent to US$3,067 per tonne and the average price of whole milk powder fell 14.8 per cent to US$3,224 a tonne.
GlobalDairyTrade's Trade Weighted Index chart below shows the TWI has fallen back to levels last seen earlier this year.
Philip Borkin, economist at Goldman Sachs JBWere, asked if today's auction price highlighted downside risk for Fonterra's milk price component of $6.60/kg milk solids for its 2010/11 payout.
"The answer is potentially, although it is too early to really say."
Whole milk powder prices in NZ dollars were currently around $4,950 a tonne.
"By our (rough) calculations, we estimate that prices would need to average between $5,200 and $5,800 over the season for this payout to be likely (we acknowledge that calculating the payout is much more complicated that this). However, given that we are now in the low point of New Zealand's milk producing season, it is far too early to have much confidence at present."
Borkin said he believed there were "some growing headwinds for global dairy prices."
"But what this is likely to reinforce in our eyes, is the current cautiousness from the farming sector. After a difficult couple of seasons, on top of some unhelpful climatic conditions, the latest volatility in dairy prices is likely to mean that farmers remain hesitant about spending. We see it as underpinning the ongoing desire to reduce debt levels."
Along with other data released in the past few weeks, including house sales, business confidence and building consents, Borkin said this morning's dairy price result reinforced his view that the Reserve Bank would pause in its "process of policy normalisation" before the end of the year.
Fonterra said last month it would increase its online trading auction from once a month to twice from September in a bid to increase its customer base and be more transparent with its pricing, the company announced yesterday.
The globalDairyTrade platform was introduced in 2008 and has been successful with bidders. There are 280 registered and each event attracts between 100 and 140. A survey of the major clients showed there was a demand for more frequent trades.

INTEREST.CO.NZ / NZ HERALD