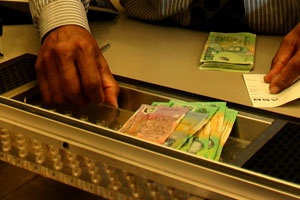 It's always a special occasion when stories about fund manager back-office processes make the mainstream press and after the hoopla generated by the funds hub idea (which has gone strangely quiet), I thought that would be it for the year.
But the launch of secret share-trading firm Liquidnet in New Zealand this week received a surprising amount of airtime.
Maybe it was the talk of "dark pools" that attracted headline-writers - the phrase has an exotic feel about it that suggests something sexy and exciting (which you can bet that it's not).
At any rate, it seems the 'dark pools' filled the back-office process slot for the week because another story in a similar vein has yet to reach the big time.
According to research from consulting firm Russell Investments that landed in my inbox, New Zealand's institutional fund managers have been somewhat sloppy in handling their foreign exchange transactions.
The Russell research, which analysed some $28 billion of real FX transactions between January 2008 and December 2009, found that the average cost of the 40,000 trades it examined was at least three-times higher than the rest of the developed world - that is, nine basis points (0.09 per cent) versus the global average of one to three basis points (or bips as they are known in the trade).
It should be stated upfront that Russell is flogging a service here - its Agency Foreign Currency (FX) Trading program - but there is a sales 'message' in most research reports.
In a statement, Sally Corbett, Russell Investments manager of Investment Services in Australia and New Zealand, said over a 40-year period the cost of such shoddy FX management could be as high as 2 per cent of a portfolio's value.
"It should be unacceptable to investors and managers when far more foreign exchange transactions are executed close to the worst price of the day rather than the best," Corbett said.
"...New Zealand investors keep a watchful eye on both domestic and foreign transactions in equities and fixed income assets, why ignore the cost of foreign exchange and leave basis points on the table?"
OK, this is utterly boring stuff but this is how the cost of managing money, theoretically anyway, can get squeezed down - perhaps we should care about it.
As the saying goes - 'watch the basis points and the per cents will take care of themselves'.