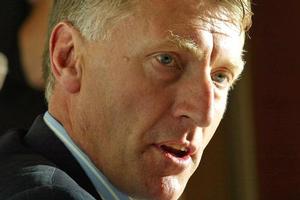 Craig Stobo. Photo / Mark Mitchell
A relatively minor tax tweak is the first step towards establishing New Zealand as a financial services hub for international managed funds, says industry figure Craig Stobo, who claims credit for the idea.
Stobo, whose 2004 review of taxation on investments helped shape the current Portfolio Investment Entity (PIE) tax regime, authored the 2008 report "Creating Wealth for New Zealanders" which included the recommendation that non-resident holders of foreign assets should be taxed at zero per cent.
"The New Zealand Government's got no interest in taxing Belgian dentists on their Japanese shares, but what if those investors were to use a New Zealand trust to hold those shares?" he said yesterday.
"That's the opportunity in front of us, take a small slice of what's called administration or management fee income from servicing non-resident savers."
Stobo, who is chairman of fund management administration business Appello Services, which is 30 per cent-owned by sharemarket operator NZX, said he presented the idea at last year's Job Summit.
"As I understand it, it's the only tax idea that's left standing from the summit and it has been incorporated more than willingly into the Capital Markets Development Taskforce (CMDT) work and forms the basis for the recommendation.
"It doesn't work unless you've got the tax right and the tax has to be zero at the fund and investor level. Because of the PIE regime we're able to do that, to tax different classes of investors at different rates, and in this case non-residents at zero."
On Thursday Commerce Minister Simon Power will release the Government's response to last year's CMDT final report which contained the "financial services hub" recommendation but little detail on how it might be achieved.
This week, Prime Minister John Key spoke of the potential to create 3000 to 5000 jobs by developing and promoting New Zealand as a domicile and supplier of middle- and back-office functions for international managed funds, using Ireland as a model.
Ireland and Luxembourg are currently the favoured domiciles for the global funds management industry, but Hugh Stevens, New Zealand head of BNP Paribas Securities Services, said new EU directives around fund domiciles were disrupting that status quo. "Disruption means opportunity."
BNP Paribas is one of the largest providers of middle- and back-office functions to international fund managers and Stevens said his company would welcome the opportunity to expand their presence here but there are challenges in attracting the business.
"If the fund is a global equities fund, the managers could set it up anywhere in the world but they have to choose one location where it is going to be legally founded. We'd also be selling to regulators. If we wanted to make it easier for a fund manager to distribute into Hong Kong and Singapore then we'd have to make sure that the regulators in those markets approve of a New Zealand fund being sold to the investors that they're protecting."
The third group New Zealand has to convince is the investors themselves.
"They want to invest in a product they trust and so that takes some branding. New Zealand's competitive advantage is that we are seen in Asia as having a strong brand as a trustworthy common law country."
BEHIND THE SCENES
Funds management middle- and back-office functions - what are they?
The trustee function
Trustees are the legal owners of the assets, holding them on behalf of investors. Investors will look for trustees in a jurisdiction that is deemed to be well regulated and transparent
Fund administration
Involves calculation of the value of the fund's assets. Sets buy and sell prices for investors entering and exiting the fund. Again, investors and fund managers will look for trustworthy administrators in well regulated markets.
Registry services
Keeps track of the ownership of the fund. Ensures the fund's assets are allocated fairly and equitably across its owners while protecting their privacy.
Behind each of these functions are numerous roles in accountancy, auditing, legal advice and consulting.