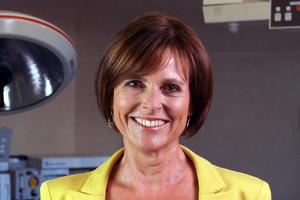 Former One News presenter Richard Long says he feels "really bad' about his endorsement for failed finance company Hanover.
But it is business as usual at TVNZ, after linking its most prized programming content to troubled firms.
TVNZ has received significant funding from companies that hit the wall, taking the retirement savings of mum-and-dad investors.
All media took advertising from finance companies in the latter part of the 2000s. But state TV was in boots-and-all, making links to key properties - including the news.
Hanover - and the involvement of a former longtime and trusted newsreader - fits into this special category.
"This One Weather Update is brought to you by Hanover, a New Zealand business with the size and strength to withstand any conditions," viewers heard.
Capital + Merchant was tied up with One News updates and Lombard Finance was closely linked with another top TV One property, Sunday Theatre.
Yet despite the failure of companies that destroyed many investors' savings - and allowing a former newsreader to present ads for the Hanover train-wreck - TVNZ has not changed its policy. "It's not black and white," said spokeswoman Megan Richards.
"The collapse of finance companies raised everyone's consciousness, including ours, in the sense that we were naturally concerned at our clients' ability to pay their bills," she said.
"There is no restriction at all on potential sponsorships from within the finance sector.
"It is not our task to regulate the finance sector nor to pass judgment on a given company's viability."
Yet the relationship went beyond advertising and into finance companies "bringing" people programmes and being linked to highly credible properties like the news.
"It's unfair to suggest we were somehow singled out," Richards said.
"The higher visibility of television, and its power as an advertising medium, may account for your perception that there were more failed companies associated with us than with others."
ANCHORS AWAY
TV news has maintained a loose relationship between its news anchors and the commercial sector - shown by the role of the news anchor as event emcee.
But despite his work after leaving Hanover, Long says presenters can do things now that would never have happened in the old days.
TVNZ points to the role of TV3's John Campbell presenting conferences for his sponsor Mazda, while Campbell Live's Jaquie Brown presented events for Vodafone.
A former TVNZ staffer was aghast recently at the ASB Tennis Classic, which was emceed by One News anchor Simon Dallow wearing T-shirts with the ASB logo.
Dallow stood by his role, saying he had done it for six years and it was during his holidays.
In the old days a TVNZ anchorman could never go near wearing a company logo as it was seen to sully the news.
Dallow says TVNZ head of news and current affairs Anthony Flannery supports his tennis gig because of the profile it gives to news.
3News has updates from ASB, but argues that ASB is a more stable investor for news. It's not all TV either. Newspaper social pages frequently give glowing coverage to people out on the town with nary a reference to out-of-pocket investors.
NEW LOOK
Richard Long's old colleague Judy Bailey has maintained her credibility.
Bailey has made a striking return to television screens recently as the face of a medical series, Little Miracles, on Sky's Documentary Channel.
For four years she has been doing voice-overs for the channel but her "wraparound" segments for the doco series represent a higher profile.
After earning big money as One News anchor in the 1980s and 1990s, she has restricted her image to selling editorial products rather than commercial products.
She could charge through the roof.
HUNTER MOVES
Fairfax Media has appointed the editor of its information technology title Computerworld - Rob O'Neill - as business editor of the Sunday Star-Times. O'Neill replaces Tim Hunter, who has been promoted to deputy editor of the Fairfax Business News Bureau headed by Fiona Rotherham.
Hunter - who has been at the SST for six years - replaces Gareth Vaughan, who has joined Bernard Hickey at interest.co.nz, a media site that provides research material for the banking sector. Under the deal, Vaughan benefits from the financial success of the organisation.
THE THIN MAN
Hickey is a changed man since a stomach stapling operation last August and says he has so far lost 50kg.
The "go-to" man for business comment turns up all over the media. Once chunky, he is now a bit of a beanpole.
Hickey has not been shy talking about the change - the same as that undergone by Tariana Turia. He says he made the decision to avoid the onset of diabetes and it had been successful.
"It's been a bit of a life change," he said.
If only house prices had fallen away as quickly.