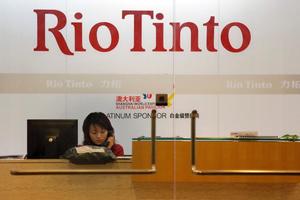 SHANGHAI - Stern Hu, the Australian executive who headed Rio Tinto's iron ore business in China, was sentenced by a court in Shanghai last night to 10 years' jail after being found guilty of taking bribes and infringing commercial secrets.
Hu and his colleagues Liu Caikui, Wang Yong and Ge Minqiang were all found guilty of the two charges, Chief Judge Liu Xin said, handing down his decision in the Shanghai No1 Intermediate People's Court after a three-day trial last week.
The four were sentenced to between seven and 14 years in jail.
The detention frayed relations between Australia and China, coming after Rio rejected a A$21.5 billion ($27.5 billion) investment from Aluminum Corp of China, and iron ore price talks with Chinese steelmakers stalled.
Relations have improved with China agreeing to buy gas from an Australian project and jointly investing in an iron ore project with Rio.
Ge was sentenced to 8 years, Liu to 7 years and Wang to 14 years in prison, Judge Liu said.
By obtaining commercial secrets about Chinese steelmakers, the Rio workers contributed to the failure of iron ore price talks last year, the judge said.
The four executives, who were indicted on February 10, pleaded guilty to receiving 92.18 million yuan ($19 million) between them in bribes, China's state news agency Xinhua reported this month, citing court documents. Some of the defendants contested the amounts cited by the prosecution, Tao Wuping, the lawyer for Liu said last week.
Hu was given a "light sentence" for his bribery charge, Judge Liu said yesterday. Hu confessed soon after his detention and returned the money he was accused of having received, he said.
"The Chinese authorities are very keen to demonstrate to the international world how seriously they take acts of bribery and corruption," Gareth Hughes, the Hong Kong-based head of the China disputes group at London-based Simmons & Simmons, said before the verdict. "In the last two to three years ... severe penalties have been handed down."
Rio Tinto's Melbourne-based spokesman David Luff declined to comment.
Rio's Hu is a classically trained violinist who chose his English first name after virtuoso Isaac Stern, according to a person familiar with the executive.
He became an Australian citizen in the early 1990s after joining technology firm AWA to run its Beijing office, the Australian newspaper has reported.
- BLOOMBERG