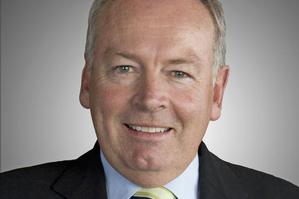 Receivers have let go $550,000-a-year Strategic Finance chief executive Kerry Finnigan and departed from Princes Wharf offices.
John Fisk, a PricewaterhouseCoopers partner now in charge with Colin McCloy, said Finnigan no longer worked at the failed financier. All files were secured and swiftly shifted out of Strategic's Shed 22 offices.
Finnigan, ex-Hanover chief executive and Strategic's high-earning boss in charge at the time of its demise, was immediately let go, Fisk said. Just six staff remain.
But Finnigan has made it known he is available if the receivers need him, Fisk said.
Finnigan, who earned $820,000 in 2008, took a $270,000 annual pay cut when Strategic struggled to return investors' money and entered moratorium in late 2008.
Receivers were appointed on March 12 and Fisk said investors could expect a report four to six weeks later, indicating that 13,000 investors will get the first glimpse into the true state of the business in the middle of next month.
Fisk is giving no indication of how much money will be recovered but stressed Strategic was extremely complicated and it would take some time to find out where the money had gone.
Fisk said all Strategic's files and material had now been moved across Quay St to the tower at 1 Queen St where PWC subleases cheaper offices in the HSBC tower.
The receivers did not want to incur further rental payments.
"We didn't want to have obligations for the rent and we have got significantly reduced rent by going across the road," Fisk said.
Strategic paid an associated party, Quay Street Investments, rent for minimalist, sophisticated offices decked out in white.
Strategic sublet lower floors in Shed 22, paying rent to associate and its own consultant, Brian Fitzgerald, and an executive director, Marc Lindale, on $267,000 last year, according to Strategic's accounts.
Fitzgerald and Lindale got $334,317 annual rent from Strategic because they own Quay Street Investments, according to its accounts.
Another Strategic associate, Dockland, plays a crucial role in the running and management of Princes Wharf, developed by David Henderson, who borrowed Strategic money.
Dockland businesses charge wharf apartment and carpark owners lease money and other fees for maintenance and upkeep of the huge wharf property, including payments for big Hilton leak repairs. Fitzgerald is a director of Princes Wharf Hotel alongside Kevin Podmore, the boss of fellow disgraced financier St Laurence.
Dockland got a $9,450,000 Strategic loan but unlike many of the financier's developer clients, Dockland repaid the money in full by May, 2008, accounts show.
Dockland needed the $9.4 million "to assist in the acquisition of commercial property", Strategic said.
Seventy-five per cent of Dockland is owned by Strategic associates and directors, according to its accounts. Fisk said the precise role played by Strategic consultant, Herne Bay's Brian David Fitzgerald, was yet to be determined, as were many other matters including the extensive nature of complicated related-party transactions.
Fitzgerald, not a Strategic director, is described in Strategic's accounts as a consultant but parties close to the business said this week he not only founded it but had a significant hand in running it.