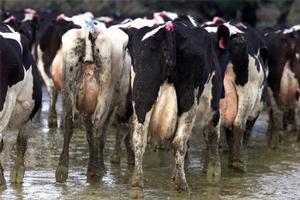 New Zealand dairy farmers are failing to clean up their act, according to the latest audit of the sector, with effluent rule compliance getting worse in the past year.
Agriculture minister David Carter, Fonterra and farmer groups have described the latest pollution report as "extremely disappointing", "completely unacceptable" and "totally unacceptable".
Fonterra says it is going to become 'much firmer' on the pollution issue and has announced a new inspection regime it hopes will help its farmers clean up their operations.
The Clean Streams Accord results for 2008/09 show non-compliance with regional council rules rose to 15 per cent, compared with 12 per cent a year earlier.
The latest update of the 'Dairying and Clean Streams Accord' - an agreement signed in May 2003 between the Ministry of Agriculture and Forestry, the Ministry for the Environment, Fonterra and Local Government New Zealand was published this morning.
It shows that full compliance rates with effluent disposal requirements fell - dropping from 64 per cent in 2007/08 to 60 per cent in 2008/09 season.
"There was considerable variation in full compliance between regions ranging from 39 per cent in Northland up to 96 per cent in Taranaki."
The level of "significant non-compliance" nationally now at 15 per cent, up on the 2007/08 season's 12 per cent. 'Significant non-compliance' is a situation where rules and/or resource consents are breached, resulting in a greater potential for environmental degradation.
The Green Party said the latest report showed the time had come for Government to step in and regulate to prevent further pollution of New Zealand's rivers and streams.
Voluntary measures, like the Dairying and Clean Streams Accord, which relied on individual farmers to make improvements to their practices and report their own progress, were simply not enough of an incentive, said party co-leader Russel Norman.
Norman said Agriculture Minister David Carter should step in.
"Last year, the Minister said that his Government's preference is for voluntary industry-led environmental management, but if the sector was not responsive, they would act," said Norman.
"We can see now that the sector is not responsive. It's time for the Minister to make good on his promise. He is talking tough, but this means nothing without action," he said.
Fonterra issued a statement saying the latest results were "completely unacceptable" and announcing what it described as "a major initiative to check every farm's effluent management infrastructure, every year".
The resources committed to the project would double - "to help suppliers achieve sustainable dairying on farm."
Gary Romano, Fonterra's managing director of trade and operations said the new project would be piloted in the Waikato from March this year, with national rollout from August.
Romano said the company would spend up to $3 million and hire five new sustainable dairy specialists to cut non-compliance.
"We are going to be much firmer in terms of expectations and much firmer in terms of commitment," he said.
But imposing penalties on farmers would be a last resort. Non-compliance was caused by farmers not having enough resources or training to meet effluent consents, said Romano.
"It's similar to the question why do some people speed. Some react in a positive way to constant education about speeding. Some don't," he said.
"I would argue that our farmers are much more compliant than our motorists."
This season, Fonterra threatened to stop picking up milk from 11 non-complying farmers. The company followed through and refused to pick up milk from two of these farmers, but they 'turned their operation around within days', said Romano.
With its expanded emphasis on effluent discharges starting nationwide on August 1, Fonterra's goal was to cut non-compliance by half in 18 months, he said.
Fonterra will double its staff of sustainable dairy specialists from 4.5 to 9 individuals, and have regional managers put more focus on effluent issues. Annual dairy shed checks will be extended by 30 minutes to cover pumps, ponds and irrigation systems to help with effluent compliance.
Romano said there were "reasons, but no excuses" for the decline in compliance.
"Compliance monitoring has been stepped up, so obviously more non-compliance is being identified. We have also seen monitoring extended beyond the farm dairy to other areas such as feed pads and stock underpasses. But while these are contributors for the poor result, they are no excuse.
Agriculture Minister David Carter said he was "putting dairy farmers who pollute on notice".
"The data from this year's snapshot tells a totally unacceptable story of effluent management. Regardless of whether this is because farmers don't have the right tools, don't know how to comply, or simply don't care, behaviour has to change." he said.
Carter said the dairy industry as a whole would suffer through the damage caused to its national and international reputation, unless New Zealand can back up its claims of sustainable dairying with tangible action and evidence.
"You can argue the merits of dairy to our economy until the cows come home - but until every farmer takes responsibility for improving effluent management, the environment and dairying's reputation will suffer.
"I am putting non-complying dairy farmers across the country on notice. You need to take individual responsibility for this issue and work more effectively with your neighbours, your regional councils and your industry body.
Federated Farmers said the results "present a challenge" to the dairy industry.
"While the focus will be on the negative, the industry's openness and accountability is a much bigger positive," said dairy chair Lachlan McKenzie.
"Like most farmers, I'm really disappointed at the rise in serious non-compliance from 12 to 15 per cent," he said. "Yet while our news is disappointing, the dairy industry is fronting it publicly. Disclosing our environmental footprint, good or bad, is all about being open and accountable because our performance is out there for all to see.
"Wouldn't it be encouraging, for once, if the vast majority of dairy farmers actually got positive reinforcement for the big strides we've made. Farmers may have a right to farm but the good ones, the majority, swear by their environmental obligations.
"We mustn't lose sight of the fact that 85 per cent of New Zealand's dairy farmers are either fully compliant or guilty of no more than an administrative breach. This Report really highlights need for greater consistency with the way farms are inspected.
The Fonterra Shareholders' Council said meeting Regional Council rules for effluent management must be a priority for all dairy farmers
In a statement released this morning, Council chairman Blue Read said one of the major issues dairy farmers face is the need to make sure rivers and streams on dairy farms are clean.
"This result is extremely disappointing and is simply not good enough," said Read.
DairyNZ expressed disappointment at the audit's findings, but said it has learned more about why many effluent disposal systems were non-compliant.
CEO Dr Tim Mackle said in a statement released today that the designs of many systems meant they were not suitable for year-round use. He also said that many farmers were not aware of what the requirements for compliance were.
Last week DairyNZ and its partners released details of new standards and a code of practice for consultation in relation to dairy effluent.
Dr Mackle said the organisation "strongly advocated a warrant of fitness approach so that we correct this fundamental problem."
"We would like to get our effluent systems on all farms to a high standard within the next five years, or sooner if possible," he said.
-ADDITIONAL REPORTING: MICHAEL DICKISON
See a summary of the report here