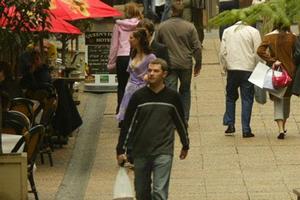 Consumer confidence edged lower in the March quarter but optimists continued to outnumber pessimists, a new survey shows.
The Westpac McDermott Miller consumer confidence index, published today, slipped slightly, to 114.7 from 116.9. An index number over 100 indicates there are more optimists than pessimists.
"Not much has gone the consumers' way in recent months. Interest rates and petrol prices are up, unemployment has worsened, and house prices are falling again," Westpac chief economist Brendan O'Donovan said.
Most of the decline in the latest quarter came from an adjustment to the future conditions index, which dropped to 124.7 from 128.8 in December.
Consumers remained deeply pessimistic about their own financial situation. A net 22 per cent of respondents said they were worse off than a year ago, compared to 21 per cent last quarter, said O'Donovan.
The only part of the survey to show improvement was consumers' assessment of whether now was a good time to buy a major household item, with a net 21 per cent saying yes.
"The high exchange rate is about the only thing that worked in consumers' favour recently, by driving down prices of many goods, including consumer durables like cars and appliances," O'Donovan said.
Consumer confidence at its current level was consistent with a steady, but unspectacular, recovery in consumer spending.
An additional question added to the survey in the latest quarter asked whether respondents thought any tax changes in the next 12 months would have a positive or negative effect on their overall financial situation.
The results were evenly split, with 33 per cent expecting a positive effect, 34 per cent expecting a negative effect and 22 per cent saying they expected no effect.
Respondents in the upper socioeconomic category were the most positive about the prospective tax changes, with optimists outnumbering pessimists by two percentage points. By contrast, the lower socioeconomic group was decidedly pessimistic about the changes, with negative responses outweighing positive by 18 percentage points.
People aged 50 or over were also markedly more pessimistic about the financial impact of possible tax and benefit changes than younger people.
The tax changes have not been formally announced, but hints so far indicate income tax will be lower, GST will be higher, the rules on property investment will be tightened, and national superannuation will be increased.
"The tax changes are likely to temper the rate of house price inflation," O'Donovan said.
"That's a boon to the young and a detriment to the old. In addition, higher GST works against those with substantial savings. So it is no wonder younger people are more positive about the changes than the more senior age group."
- NZPA