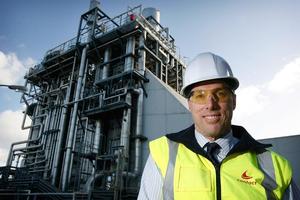 Contact Energy says increasing retail prices should flow into results for the rest of the year after reporting flat underlying earnings for the first half.
The company warned that because retail competition remains so intense and it faced a further increase in gas costs, there were a range of possible outcomes due to market volatility.
"Based on current conditions, Contact is not uncomfortable with current market consensus estimates for the financial year," managing director David Baldwin said.
A Bloomberg survey of five estimates puts full-year earnings at about $180 million.
Contact's $80.1 million in underlying earnings after tax was up just 0.3 per cent from the year before, while after tax profit increased from $25.1 million to $88.1 million, attributed as being mainly due to change in the value of financial instruments.
An unchanged interim dividend of 11c per share is to be paid.
Full South Island hydro lakes meant wholesale prices dropped 42 per cent to $42 a megawatt hour during the six months to December 31.
While wholesale electricity revenue dropped by $139 million, the price Contact had to pay to buy electricity fell from $366 million to $197 million.
Baldwin said there were signs wholesale prices were starting to realistically value hydro lake water in the South Island - where Contact has its Clutha system - which was resulting in prices of between $50 and $100 per MWh rather than $20 at the same time last year.
This, combined with largely unconstrained transmission constraints meant Contact was able to generate more from its hydro plants than in the prior period and minimise spill.
"Despite this, the full benefits of the integrated model are not being realised due to the lack of portfolio flexibility."
Contact had to pay $15 million for gas it could not use at its gas-fired stations, could not sell or could not inject into the new Ahuroa gas storage project which is nearing completion.
But by injecting 2.5PJ of gas it was able to avoid another $22 million in gas costs.
It is spending around $500 million on Ahuroa and an associated fast-start peaking station at Stratford.
The company also has four geothermal projects being built or at a feasibility stage and Baldwin said it remained committed to its Waikato wind farm project which it installed last year.
Baldwin said retail competition remained intense.
The number of customers fell from 500,000 at the end of 2008 to 478,000 at the end of last year.
The company had focused on retaining big-value customers.
"However, necessary price increases have been constrained given the market conditions in margin contraction."
Margins on retail sales had sunk to around 2 per cent which Baldwin said were not sustainable.
Typical margins overseas were between 7 per cent and 10 per cent.
The economic slowdown had seen commercial and industrial demand drop by 5 per cent during the past year.
Contact's time in use demand had remained flat and this was starting to recover.
Peak demand was growing due largely to the proliferation of more energy-hungry domestic appliances such as heat pumps being switched on at each end of the working day.
Contact shares closed down 8c at $5.72.
CONTACT ENERGY
Six months to December 31
Revenue
2009: $1.07b
2008: $1.24b
Ebitda
2009: $225m
2008: $224.7m
Net profit
2009: $88.1m
2008: $25.1m