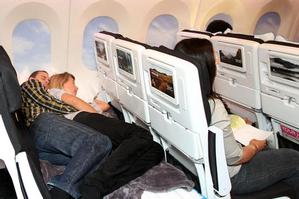 It's not only Air New Zealand's "cuddle class" passengers who will be getting closer to their travelling companions.
The rest of the economy section will be cosying up a little more to their neighbours with the addition of an extra seat in each row in the airline's new Boeing 777-300ER aircraft, due for delivery this year.
This will mean standard seats and aisles are narrower.
Last month the focus was on fold-down sky couches, hailed as world-leading, but the airline is joining the pack elsewhere in economy by installing 10 seats across instead of nine.
Ed Sims, group general manager international airline, said 10-seat rows were becoming the industry norm in the new 777s. "Emirates has been operating 10 abreast for many years, as have Air France and KLM."
There are 314 seats now and there will be 340 seats in the new planes, which are longer but no wider.
Aisles will be 5cm narrower and seats about 2cm narrower than those in the older model 777-200ER. The distance between seats - or pitch - ranges between 79cm and 84cm at the moment but the airline says all economy seats in the new cabins will have the 84cm pitch. Mr Sims said because meal carts were narrower they would take up less aisle space and service flow changes meant passengers would not feel trapped in their seat, "as they currently do on other carriers".
Jetstar's charter commitment team will be doing a brisk trade if responses to a Herald story on the new voucher-backed service guarantee scheme are any indication.
Issues ranged from a cancelled Sydney-Auckland flight on January 11 to a failure to respond to a complaint for two months. Sadly for the complainants they fell outside the starting date for coverage - Thursday.