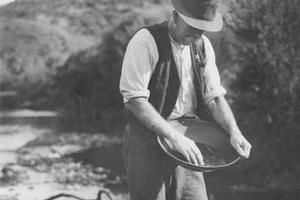 A mining company wants to extract run-off gold from the mudflats near Thames.
Peninsula Minerals has applied to Crown Minerals for an exploration permit for a 55ha area off the coast and hopes to be in production within five years.
Mining opponents say the venture would have serious environmental consequences and potential health risks.
Under the plan, mud, sand and shells would be pumped ashore, processed in an industrial area of the town and pumped back out from where it came from minus the gold-bearing material.
Gold was washed down from mining sites in the boom years from 1862 until around the middle of last century when about 1300 tonnes was recovered from the Thames Goldfield, which runs through much of the Coromandel Peninsula.
Inefficient mining techniques meant as much as 40 per cent of the gold was lost, much of it running down streams into the Firth of Thames.
A similar scheme to recover gold from the mudflats between 1906 and 1910 produced several thousand ounces, said Roger Gregg, managing director of Peninsula Minerals.
He hopes his technologically superior modern version of that operation will successfully finish what he started investigating in the mid-1970s.
Then, using small drilling rigs, he sampled the area which revealed good signs of gold. "It's not a new thought but we have new processes now. We know the gold is there."
Gregg, who has qualifications in geology and chemistry, has worked for mining companies in New Zealand and Canada. He has also worked for Crown Minerals.
Peninsula Minerals is Gregg's small private company but he is not at this stage seeking financial backers.
They, and more expertise, may be sought if the project moves from exploration to mining.
Consistently high gold prices and improved technology have made the project viable, Gregg said. He needs the approval of Crown Minerals but will have to get resource consent.
Coromandel Watchdog spokesman Denis Tegg said the venture would face stiff opposition from a range of groups.
The exploration area was near a wetland of international significance with dozens of species of migratory birds, a fishing hatchery and flounder fishery.
There was also the prospect of mercury used before cyanide in gold processing being disturbed.
Gregg said a rehabilitation plan and meeting environmental standards was a priority.