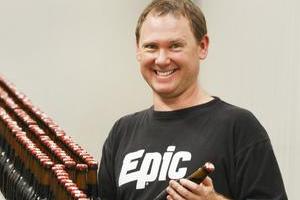 Selling beer at the equivalent price of a serviceable bottle of discount wine during a recession has proved surprisingly easy for an Auckland craft brewer.
Three-year-old Epic Beer has enjoyed 200 per cent growth over the past year after similar growth the year before. The company ranks within the top five craft labels in the country by size but compared with the big breweries it is tiny.
Founder Luke Nicholas says the recession had proved positive in spite of his beer selling for between $6 and $7 for a 500ml bottle.
While people were cautious about making big purchases of cars and furniture, those who had not lost jobs still had money.
'They were thinking, 'Let's go and buy something better than we normally buy."'
This resulted in a surge in demand he struggled to cope with in winter.
"I was completely behind the eight ball."
Nicholas is a commerce graduate and says a hobby became a business when he started working for a web-linked United States brewery realbeer.com between 1999 and 2001.
He said it was an idea ahead of its time and became a victim of the dotcom crash, however he is optimistic the connections he made in the US will pay off for Epic, which grew out of the Cock and Bull pub chain here.
In the first half of this year Nicholas will start exporting by the pallet-load to the US, selling through niche bottle shops, avoiding big chains.
"I'm not out there to take on Budweiser or anything because it's top end. If they wanted a container every week then that would be an issue."
There were now about 50 craft brewers in New Zealand and numbers are growing against a fall in beer sales of 4 to 5 per cent suffered by DB in the year to September.
Nicholas said he would not follow large global brewers which are trying to get drinkers on to low carbohydrate, or mid-strength beers.
"I kind of know what they're saying but their messages are very similar. They're giving the consumer warm fuzzies about 'if I drink this beer it's healthy for me'."
Epic's Armageddon beer has an alcohol content of 6.66 per cent and all lines are promoted and have won awards for their strong hop flavours.
The company also wants to expand in Australia and to Europe.