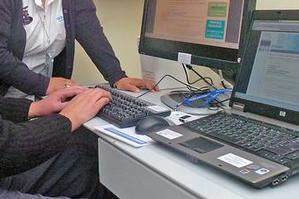 It was a long list. And in the act of compiling it, we realised that the last decade has been momentous in terms of changes to our workplace. In whittling it down to the top ten, we scratched out KiwiSaver, the 90-day trial period, internet job searching, flexible working hours, the impact of Generation Y entering the workplace, the flattening of management hierarchy and the phenomenal increase in employment in the public sector.
So here they are, the top ten changes in our workplace according to the Herald Jobs team.

The boom
The greatest economic boom in history certainly had its implications for the labour market. With an economy growing at almost four per cent each year between 2000 and 2008, there was a job for one and all. The unemployment rate hit a low of 3.5 per cent in the December 2007 quarter.
It was certainly a jobseeker's market, and if companies hadn't been making so much money, it would have been a nightmare for employers.
Candidates had their pick of positions, and were able to dictate the terms of their employment. Salaries were increasing at a remarkable rate, particularly so among the top brass who saw their pay packets expand by an average of 25 per cent in 2007 according to The Herald's annual remuneration survey of 49 NZX 50, private and state-owned companies.
Survey after survey revealed money to be the key driver of appointments, and workers jumped ship to get promoted rather than wait for it to happen internally.

The bust
What goes up, must come down. And it all went pear-shaped remarkably quickly. From 3.5 per cent in December 2007, the unemployment rate rose to 6.5 per cent in the September 2009 quarter.
In the same quarter the number of people unemployed reached its highest level in 15 years, rising 12,000 or nine per cent to reach 150,000.
Social Development and Employment Minister Paula Bennett said it was "in line" with expectations, but revised forecasts show some promise.
"Yes, New Zealand has come out of recession - just. But unemployment tends to lag behind an economy getting back on its feet. Recent forecasts though have unemployment peaking closer to seven per cent, instead of the eight per cent forecast in the Budget.
The upshot of all this is that people are staying put, keeping their heads down, and becoming increasingly restless about it. Surveys conducted by recruitment agencies suggest that over 50 per cent of employees are looking to move within the next six months and that employee engagement levels are at a low ebb.

Technology
Ten years ago people were unlikely to be carrying a computer around in their pocket, unless they had what was still called a PalmPilot.
Now it's more likely than not that their phone will be smarter than the desktop computer they worked on back then.
What they've lost is time and distance. Bosses, workmates, customers expect to reach them anytime and anywhere, by voice, email or text. The working day has got fuzzy round the edges.
Even when travelling, people find places to check their email. If they don't, their mailboxes will be full of spam when they get home.
When people meet, chances are they googled each other first, the risks of a new encounter offset by a trawl through the digital detritus our lives now generate.
The applications people use no longer reside on the office computer that gets switched off at the end of the day but are fast fleeing to the cloud, living somewhere on the internet to be accessed at any time.
- Technology by Adam Gifford

Paid Parental Leave
It was back in 1980 that under the Maternity Leave and Employment Protection Act women were legally entitled to take leave for up to 26 weeks during pregnancy or after the birth of a child. The Act prohibited dismissal due to pregnancy, pregnancy-related sickness or maternity leave.
Fathers were recognised in 1987, when The Parental Leave and Employment Protection Act meant they could also take leave after their child's birth. The combined leave time of both parents could be up to 52 weeks.
It wasn't until 2002 that the Act was amended under the Labour government to provide for a new state-funded scheme of 12 weeks paid leave. The then Minister of Women's Affairs, Hon Laila Harré, remarked: "Women are increasingly providing a significant proportion of their family's income. They are also rearing the children who are the producers of the future, the children who ensure the continuity of our society. Paid parental leave will reduce the financial pressures on these women and their families as they adjust to the birth of a child."
The Act was amended again in 2004 to increase this paid entitlement to 13 weeks, and in 2005, paid leave was increased further to 14 weeks.
Initial concerns raised in 2002 included that it would act as a disincentive to employ women and that employers had to keep a job open, with no certainty that the woman would return to work.
The maximum level of payment is currently $429.74 per week before tax

Four week holiday
The gnashing of teeth could be heard all over the country. Employers were trying to figure out how to afford having their workers take an extra week's leave, while employees were champing at the bit to get it.
Minimum statutory employment leave around the world varies widely, with UK workers enjoying 28 work days off each year, and employees in Finland, Brazil and France having up to 30.
Asian workers fare badly by comparison, with most getting two weeks. In the Philippines just five days is mandatory. Workers in the United States are not legally entitled to holidays at all, but typically they receive between ten and 15 days.
The holiday entitlement in New Zealand seems to be following an approximate 30 year cycle: in 1944 the Annual Holidays Act made two weeks' holiday mandatory; in 1974 it became three weeks; In 2003, it was announced that from 2007 it would become four weeks. Roll on 2037.

Skills shortage
Not since the country was first colonised has there been such a skills shortage in New Zealand. The Brain Drain of the 90s escalated into the 00s, the global economic boom, falling behind in OECD salary tables - these all combined to create the most severe skills shortage ever experienced. in contrast to anecdotal evidence of the job market today where advertisements elicit hundreds of responses, many advertising campaigns for staff went completely unanswered.
Unfortunately quantity doesn't equal quality. Despite the numbers of candidates looking for work, skills shortages remain in a number of industries such as engineering and health. Employers will be hoping that kiwis living abroad and sent packing by adverse economic conditions may alleviate this shortage. Watch this space.

Shortening of tenure
Maybe it was the influence of the 'i-want-it-all-and-i-want-it-now' generation Ys. Perhaps it was the pick-and-choose mentality of the luckiest job seekers in the years during boom time. But employee loyalty to one company has become a rare thing these days. People have discovered that the quickest way to promotion and a leap in salary is by jumping ship. Gold watch companies are suffering terribly.

Women in the workforce
In no other decade have so many households had two people in the workforce. The amount of mothers going back to work after having children has increased and now women make up 46.8 per cent of the New Zealand workforce.
Perhaps the largest contributing factor is that New Zealand has some of the highest house prices in the OECD when compared to wages - most mothers and fathers now have to work in order to just service the mortgage and pay the bills.
Unfortunately this trend has not contributed to more women in management. While women make up nearly half of the workforce, a mere 8.7 per cent are on the boards of New Zealand's NZSE 100 companies. Sixty per cent of these companies have no women directors at all, and only one per cent of the NZSX top 100 companies have a women as CEO.

Flight of the kiwis
The lucky country? You bet. In the last decade over 330,000 kiwis have emigrated to Australia, lured by better wages and a higher standard of living.
In his Taskforce 2025 report, Don Brash put the figure into perspective, saying that the number represented the combined populations of Whangarei, Gisborne, Masterton, Nelson, Timaru and Invercargill. A study by Wellington demographer James Newell found that 2.8 per cent of employed people in Australia were born in New Zealand.
New Zealand employers have found it difficult to compete on wages which has compounded the skill shortage here. This emigratory trend doesn't look like changing any time soon, and it is anyone's guess how fast-dwindling numbers of Generation X and Ys are going to pay for their parents' retirement pensions.

Working remotely
A spin-off from the advances in internet connections and computer and phone technology is the ability to work remotely, which has seen a huge increase. It no longer matters if you are in deepest Wairarapa - if you can log on or get mobile phone coverage, you have everything you need. This has been of benefit to freelance and contract workers (and has contributed to the rise in numbers of contract workers), and to the employers who use their services.
The flipside to the reach of the office through communication devices is that work is now harder to escape. If you take your Blackberry to the beach, it can be hard to ignore the fact that five emails are waiting in your inbox or your boss keeps calling.